Roasted Delicata Squash Salad with Cranberries, Pecans, and Orange-Tarragon Vinaigrette (Recipe)
Wednesday, December 13, 2017
Delicata squash is one of the quickest and easiest squashes to prepare, making it perfect for weeknight meals. With its edible skin, sweet flesh, and seeds that roast up quickly, this squash has it all!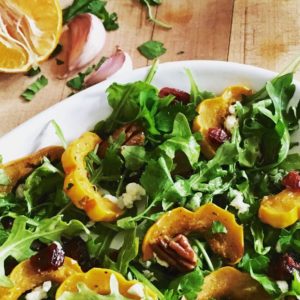 Roasted butternut squash gets a lot of love on my blog, with far too many recipes to link to cohesively; please do search away for lots of tasty ideas.
But the truth is that I'm obsessed with roasting everything to coax the most flavor out of my veggies. Pretty much any vegetable works—cauliflower, Brussels sprouts, butternut squash, parsnips, sweet potatoes, pumpkin—and you're well on your way to something delightful either on its own or when incorporated into scrumptious soups, stews, and salads.
I sometimes forget to branch out when it comes to squash, though, and today's dish featuring the Delicata squash variety aims to correct that. Delicata is truly delicious; quicker to prepare than many others; and you can eat the skin! Plus, you can roast the seeds, just like any other squash or pumpkin.
All you need to do is wash then halve the squash, scoop out the seeds, and rub a quick coat of olive oil onto the flesh and season with salt and papper. Next, place on a baking sheet, cut-side down, and roast in a 450 degree F oven for about 25 minutes. (Poke with a sharp knife; it's done when it slides right in.) Slice in whatever thickness pleases you once it's cooled a bit. Absolutely delicious right off the pan on its own as a side dish or featured in a pretty salad like this one including arugula, dried cranberries, scallions, and toasted pecans. I whisked up a quick orange-tarragon vinaigrette to bring it all together (freshly squeezed orange juice, white balsamic vinegar, olive oil, Dijon mustard, several pinches of dried tarragon, crushed garlic or minced shallots, salt and pepper—watch me making a similar vinaigrette here), though olive oil and Balsamic vinegar work just fine. And I also crumbled on chèvre, but it's certainly not necessary.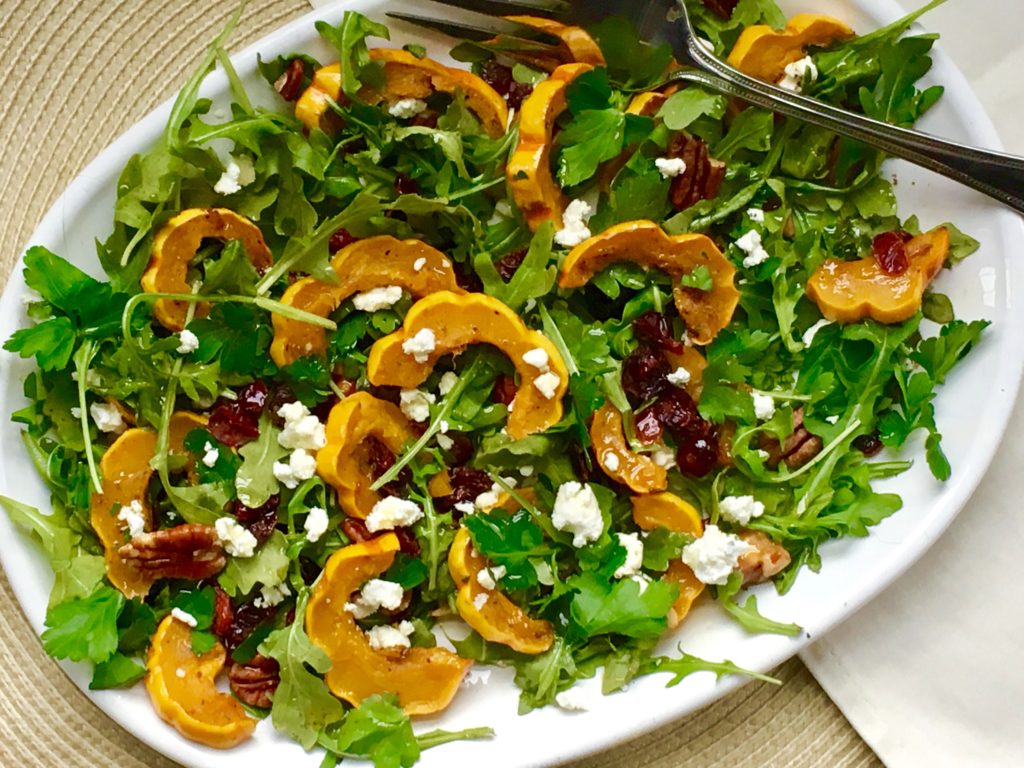 Enjoy, and don't forget to branch out when it comes to the wondrous offering of winter squashes!
—
Learn more about food personality and health expert Dr. P.K. Newby, or her experience as a nutrition scientist, professor, and consultant here. You can also follow her on FB, where she is much more active than on this blog. Or, click here if you just want to ogle food porn featuring plant-based, globally-inspired cooking.