P.K.'s Spicy-Sweet Pepitas (aka, Toasted Pumpkin Seeds)
Thursday, December 6, 2012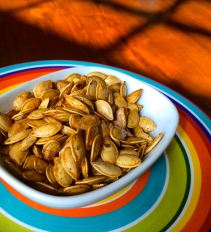 So now that you know how to roast a pumpkin, it's time to put those slimy seeds to use. Far from food refuse, Cucurbita pepo seeds are as delicious as they are nutritious. Rich in zinc, iron, and a number of other minerals, phytosterols, and antioxidants important for health and disease prevention, they make a lovely garnish for a soup or salad. They make a great snack, too, providing satiety due to their protein and heart-healthy unsaturated fat content. And, unlike the pepitas you find in the store, which is just the green inner portion, toasting them at home in their white shells (husks) maximizes their nutritional benefits and reduces food waste in your home.
There are a number of recipes you might find on the interwebs regarding how to toast pumpkin seeds: I've tried many and results vary, which is why I'm sharing my own method with you here today. (And note that you could also use butternut squash seeds, too.) The basic steps are simple:
How to Toast Fresh Pumpkin Seeds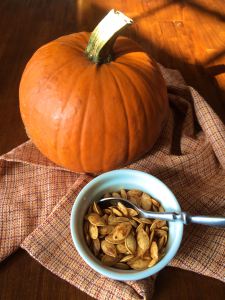 Preheat oven to 300 degrees F.
Remove extraneous flesh from seeds and rinse well.
Pat dry (or dry overnight if time allows).
Layer on a baking sheet that has been lightly sprayed with cooking oil.
Toast until crisp and lightly browned, tossing every 15 minutes or so. For a chewy seed, remove after 25 minutes.
For a crunchy seed, continue cooking an additional 10-20 minutes or so, tasting one to ensure it is crisp. I usually go about 40 minutes total.
You have a few choices at this point, including simply enjoying the naked seeds just as they are. Or, you could give them a drizzle of olive oil and scatter of flaky sea salt and toast a few more minutes for a flavor boost. Then again, you might choose to get a little fancier with your pepitas as I do here to make an especially tasty treat. All you need do is drizzle them with a touch of olive oil and pure maple syrup and season with black pepper, cumin, salt, and a dash of cayenne. Mix lightly directly on the cookie sheet, then return to the oven for about 10 minutes more, tossing every 5 minutes to ensure they don't burn. Remove from oven and cool.
Definitely the best pumpkin seeds I've ever made.
And they're not just for Halloween.
Wondering what to do with all that pumpkin? Try Thai pumpkin soup with cashews, coconut, and curry, outrageous pumpkin bread pudding with caramel sauce, or pumpkin bread with dark chocolate chunks. These are some of my favorite recipes on the blog!