Healthy Holidays: Roasted Butternut Squash Salad (Recipe)
Monday, November 23, 2015
Roasted butternut squash meets rosemary onions, dried cranberries, toasted walnuts, and Dijon vinaigrette in the perfect autumn salad you'll enjoy all winter long.
The holiday season is kicking off this week, and so is my "30 Recipes in 30 Days" blogging schedule to bring you food that inspires. You see, just because I don't have time to create new recipes as often as I'd like doesn't mean I don't have a hefty store of hundreds to inspire you to "Live Your Healthiest Life, Deliciously." And I'll bet that most of you have never even seen most of them, either (and certainly not here on my new website). In any case, they deserve another shout out—especially since I've been slowly replacing many of my crappier pictures of the early years with much better photos (some of which are highlighted here). Each day I'll write a few lines of text with just one photo that features the name of the dish and provides a link to the recipe and story. And of course I'll be throwing in some brand new dishes as well every now and again throughout the month.
Today's dish, Recipe 1, is one of my favorite autumn-themed dishes, perfect for Thanksgiving: colorful roasted butternut squash with rosemary onions, toasted walnuts, and cranberries with a zesty maple-dijon vinaigrette. This salad will actually appear on my own table this year.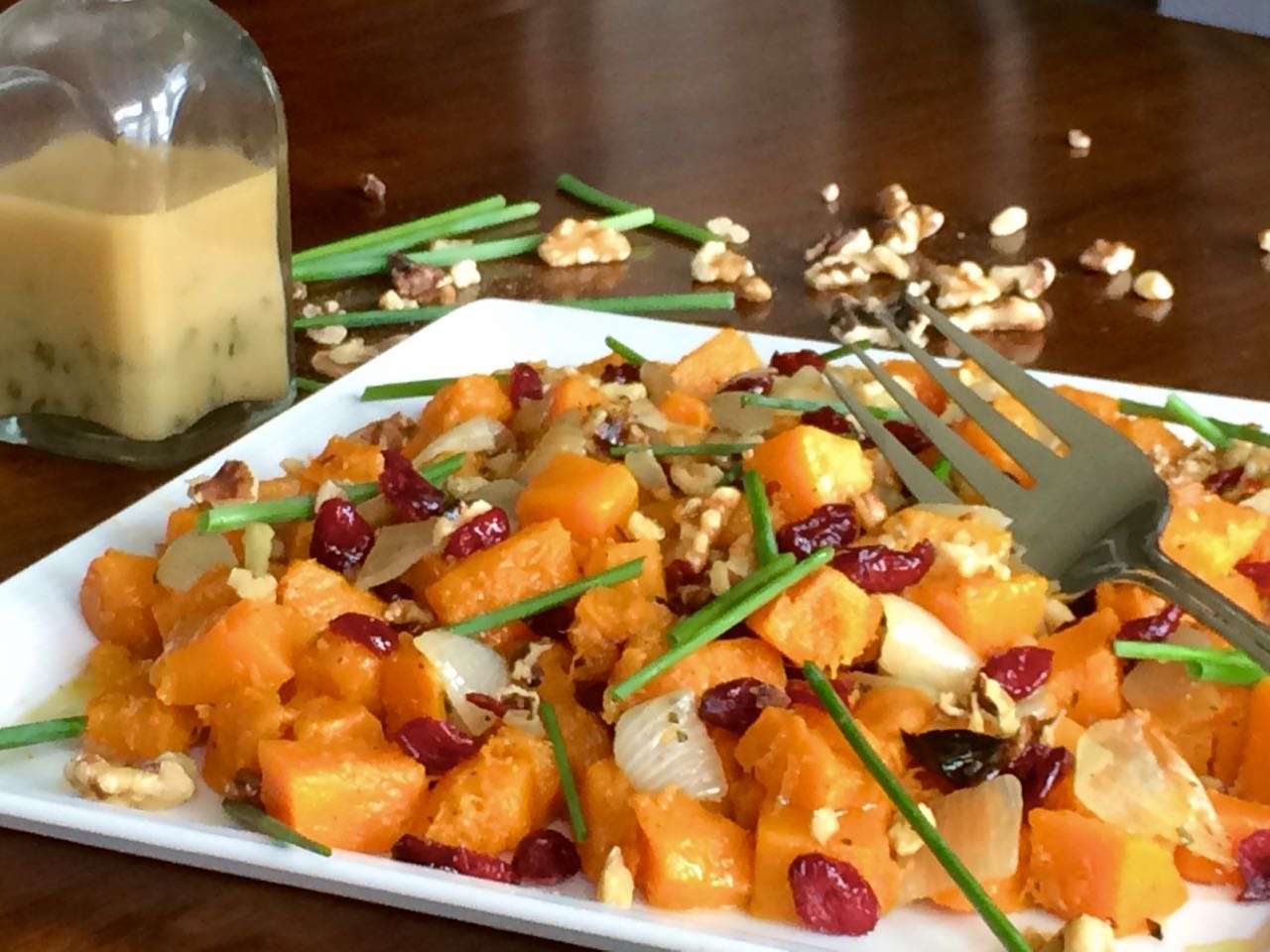 Stay with me this season and we'll tackle the season, one delectable dish at a time, while avoiding holiday weight gain. We can do it, together!
—
Learn more about food personality and health expert Dr. PK Newby here, or her experience as a nutrition scientist, professor, and consultant here. Or click here if you just want to ogle food porn featuring plant-based, globally inspired cooking.