Moroccan Stew with Sweet Potatoes, Parsnips, Turnips, and Chick Peas (Recipe)
Monday, May 9, 2016
Few things are more satisfying than stew, and this vegan recipe featuring root vegetables, chick peas, and the warm flavors of North Africa will tantalize your taste buds and soothe the soul.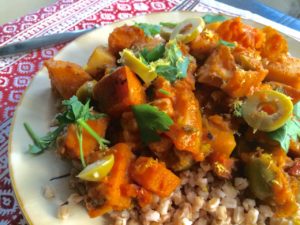 With its seductive spices and and richly hued root vegetables, this fragrant dish bursts with autumn flavors and colors: Moroccan stew is just about perfect for supper on a chilly October evening. Which it may well be, wherever you live, whenever you've stumbled across this article.
It's mid-May here in Boston—which also falls firmly into the "chilly evening" category when you live in the northeastern United States. While trendy magazines are talking about first-of-the-season farmers market treats, New Englanders enjoy hot soups and stews on many spring nights when the temperature still drops to near-freezing. We won't be seeing local asparagus or strawberries any time soon, and many of us continue to turn to root vegetables from the previous growing season to nourish and sustain.
Enter this soul-satisfying Moroccan stew, which I defrosted for tonight's supper (after a year, I might add) and served atop a bed of farro. I think you will be very happy to have made this recipe—especially if you love my Moroccan red lentil soup. This dish is not only seriously yummy, it will provide you with dinner, leftovers, and some for the freezer (depending on your family size, of course). There are a crazy amount of ingredients in this recipe, I know, but many of them are spices so don't be scared off! It's a fun dish to make and its tantalizing aroma will make you swoon as the dish simmers on the stovetop. And you really do need them all to get the complex flavors of North African cuisine, so don't skimp: most of the spices can be found easily in your grocery store. And when they're stirred into a mixture of root vegetables and traditional ingredients like raisins, green olives, and sundried tomatoes, the resulting stew is a real party on your palate.
Moroccan Stew with Sweet Potatoes, Parsnips, Turnips, and Chick Peas
Ingredients
• 2 teaspoons coriander seeds
• 2 teaspoons cumin seeds
• 1 teaspoon caraway seeds
• 1/2 teaspoon black peppercorns
• 1/2 teaspoon crushed red pepper flakes
• 2 tablespoons grapeseed oil (or other vegetable oil)
• 1 1/2 cups chopped onion (1 large)
• 5 cloves garlic, minced or crushed
• 1/2 teaspoon cinnamon
• 1/2 teaspoon paprika
• 1/4 teaspoon turmeric
• 1 6-ounce can tomato paste
• 3 sweet potatoes, chopped (about 3 cups)
• 2 parsnips, chopped (about 1 1/2 cups)
• 2 turnips, chopped (about 1 cup)
• 1 1/2 cups chick peas, cooked
• 1/2 + 6 cups vegetable stock (or water)
• 1/3 cup lemon juice, fresh
• 1 teaspoon lemon zest
• 1 teaspoon preserved lemon, finely minced
• 1/2 cup green olives, sliced
• 1/2 cup golden raisins (dark if you prefer)
• 1/2 cup sundried tomatoes, slivered
• 1/8 teaspoon white and/or cayenne pepper (or to taste)
• Sea salt, to taste
• 2/3 cup parsley, rough chop
• 1/2 cup cilantro, rough chop
Instructions
Prepare all ingredients. This recipe comes together simply once you prepare your mise en place (i.e., get everything prepped at the outset such that each element can be added to the mixture at its turn). Pulverize first five spice ingredients in a spice grinder and set aside. Cut vegetables into large, bite-sized chunks; no need to discard peels, which are chock full of nutrients and reduce your food waste. Note that you can also cut down on cooking time if you want to begin with roasted vegetables, perhaps those left over from Thanksgiving or another occasion. Canned chick peas (no sodium added) can be used if you like, or prepare dried garbanzos from scratch. (It's a cinch.) Measure out olives and raisins and prepare preserved lemon, sun dried tomatoes, and herbs.
Put it all together. Heat oil to medium-high and add chopped onion, cooking until almost translucent (about 5 minutes). Add ground spices, garlic, and remaining spices and stir until combined and mixture is fragrant, about 2 minutes. Mix in tomato paste, about 1 minute more, and then chopped veggies to fully coat with spice and tomato mixture. Add 1/2 cup stock (no-sodium if not homemade) to deglaze the pan then add remaining 6 cups of stock. Bring mixture up to a boil, then simmer until vegetables are almost soft (about 15-20 minutes, depending on the size of your chunks). (Note: if you start with roasted vegetables then you can proceed directly to the next step since the veggies are already cooked through.) Stir in lemon ingredients (omit preserved lemon if you can't find it, it's not the end of the world), olives, raisins, and sun dried tomatoes and continue simmering an additional 10 minutes or so. Taste and season with salt and peppers, as desired. (This recipe has so many rich spices that salt can be easily omitted for some palates.)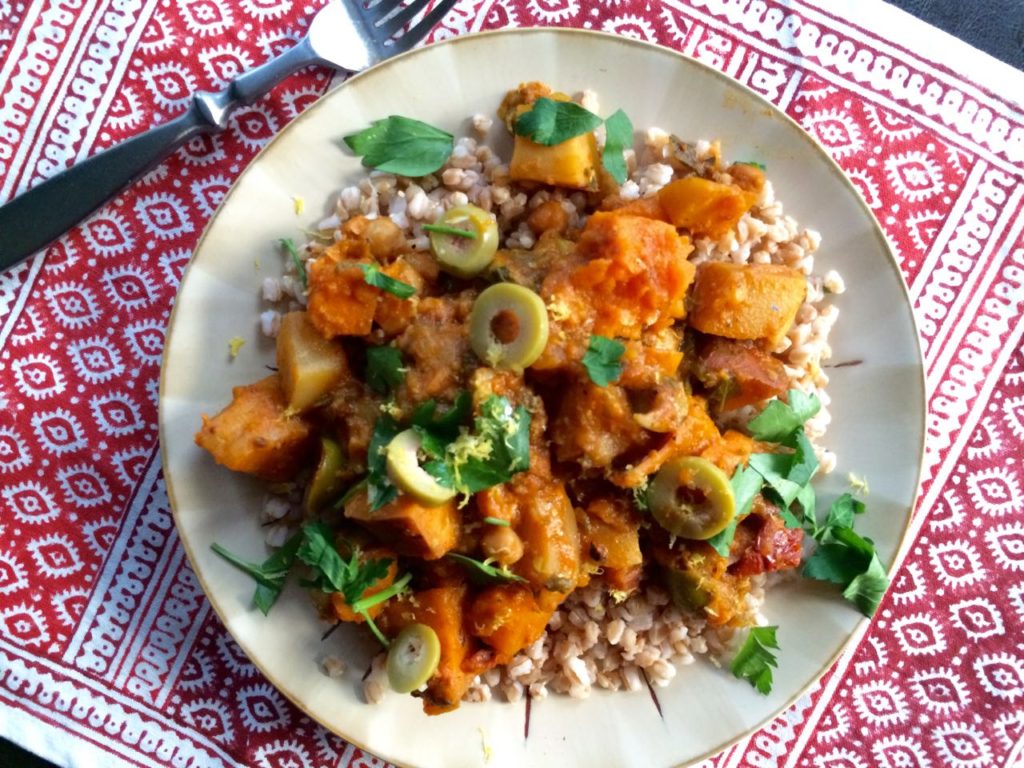 Cooking and Serving Notes. I often double this recipe to ensure I have enough for dinner, leftovers, and some for the freezer. You can also mix up the root veggie mixture (carrots are common) and add more or less garbanzos, as you prefer. Serve atop farro, quinoa, or brown rice, if desired.
This recipe is dedicated to NHL, a loyal Facebook fan who asked for this recipe more than a year ago (!). I told her that it may take a while, but I would write it for her. N, thanks for asking, and thank you for your patience. I never forgot about you. (Eeesh!)
—
Learn more about food personality and health expert Dr. PK Newby here, or her experience as a nutrition scientist, professor, and consultant here. Or click here if you just want to ogle food porn featuring plant-based, globally inspired cooking.