Healthy Holidays: Kale and Brussels Sprouts Salad with Almonds and Dijon Vinaigrette (Recipe)
Monday, December 7, 2015
I don't know about you, but in my world the extra holiday socializing—which often comes with tantalizing food and drink—is now in full swing. And it's only going to get more temptingly delicious from here, right?
While employing moderation is always important, one of the things that I find helpful this month is increasing my physical activity schedule as much as possible. (Stop laughing, now. I'm serious. And I know it's really hard with the additional time crunch. But I do sincerely try.) Also key is keeping the calories light on days I'm eating at home. It's always a good idea to incorporate the "big salad for a meal" concept into your diet, but if you aren't yet, now's a great time to begin.
So today, Day 9 of my "Healthy Holidays" series, I'm highlighting another of my favorite salads featuring kale, Brussels sprouts, Marcona almonds, and Parmigiana. Simple EVOO and vinegar work just fine as a dressing, or you could whisk up a quick dijon vinaigrette. Whichever you choose, this fabulous salad makes a great supper all on its own. (Or, I should mention, makes an elegant salad as part of a holiday table.) And if you you need a little something else for a regular weeknight meal, perhaps add some leftover whole grains (rice, quinoa, barely, whatever) or a include a cup of soup on the side.
Confession: It never occurred to me to use raw kale in a salad until a few years back. Now I'm crazy about it. Click here to read how I learned to love kale, the headless crucifer, and why it's so good for you—and enjoy.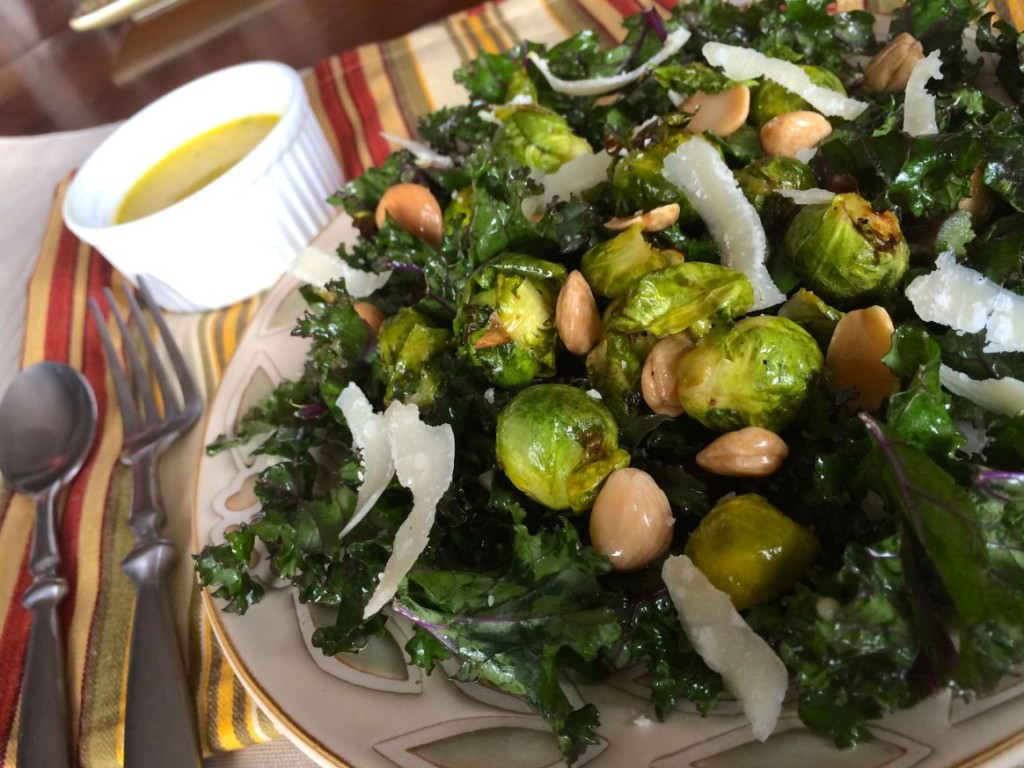 —
This month I'll be sharing my "best of" recipes and tips that take me through the holiday season healthfully and happily (and avoiding weight gain). I hope you join me! The menu will feature all of the things that comprise a salubrious diet for both your body and our planet, like vegetables, fruits, whole grains, nuts and beans, and sustainable proteins. In other words, what Cooking & Eating the PK Way looks like in practice during the holidays. (Learn more about my mission here). My philosophy is built upon the basics of healthy eating as shown in Harvard's Healthy Eating Plate, yet the food-loving PK Way features my flair for global flavors—and a tantalizing taste of moderation. Because healthy food shouldn't suck.