The Fresh Flavors of Salsa Fresca (aka, Pico de Gallo) (Recipe)
Thursday, May 2, 2013
Nothing beats salsa fresca—aka, pico de gallo—especially when tomatoes are sweetest in the heart of the summer. Quick and easy (and not just for tacos!).
Whether you call it salsa fresca, pico de gallo ("rooster's beak"), or the less interesting but still apt fresh tomato salsa, the end result is the same: this is one zesty condiment that tastes nothing like store-bought salsa. To be clear, there are plenty of great supermarket salsas out there, but when made with fresh tomatoes it's just another animal altogether.
Like mango salsa, pico de gallo is the perfect accompaniment to chips, the classic duo, and it's also wonderful with refried beans, tacos, burritos, and the like. Beyond that, you can use it anywhere else you want liven up an otherwise mundane dinner.
Or breakfast, for that matter (think: breakfast taco or southwestern scrambled eggs).
In the summer months, this salsa is unbeatable when made with assorted heirloom tomatoes with their gorgeous assorted colors and distinct flavors. I like salsa far too much to consume it only three months of the year, though. Happily, I can still find high-quality greenhouse tomatoes here in Boston (local, even), and the smallish cocktail size works especially well since there are fewer seeds than larger varieties. They tend to be firmer, too, holding their shape without becoming mushy.
A little chopping of tomatoes, crushing of garlic, dicing of onion, squeezing of lime, and you're done.
Salsa Fresca (Pico de Gallo)
Ingredients and Instructions
15 or so "cocktail" tomatoes, chopped

1-2 cloves garlic, crushed
1/2 onion, diced
Juice from 1-2 limes, freshly squeezed
1/2 poblano or other green pepper (optional)
1/2 jalapeño or other hot pepper, minced (optional)
Olive or other vegetable oil, drizzle
2 tablespoons cilantro, chopped (optional)
Dash of salt and pepper
All you need do is mix everything together, to taste. (More details here, or a cooking video is here.)
You'll note this recipe is identical to that for mango salsa and peach salsa similar to tomatillo salsa, underscoring the idea that salsa is more a method than anything else. The "yum" factor comes in with the quality and flavor of the fruits and vegetables you are using—hence my comment that summer-sweet tomatoes are ideal—and that's also where your creativity and personality come through. For example, I love including fresh corn cut from the cob to this salsa in August, when both vegetables are at the height of the season, and serving it with grilled swordfish. Diced avocado is also a beautiful addition.
This salsa is best enjoyed day-of, because otherwise you'll need to refrigerate it, and putting tomatoes in the fridge kills their flavor and texture. As well, the acid from the lime juice continues to break down the tomatoes so the mixture continues exuding more and more liquid. If you do have some left over, by all means don't throw it out, as it's still perfectly edible, just not quite as good.
You know what's particularly great with salsa fresca? I've got a simple dish coming soon in yet another south-of the-border post. Stay with me, now, because I'm out of town next week with limited time to write. Plus, Cinco de Mayo is just a few short days away and I've got all your better-for-you Mexican recipes right here at The Nutrition Doctor is In the Kitchen. (2015 Update: here's a round-up of my favorites!)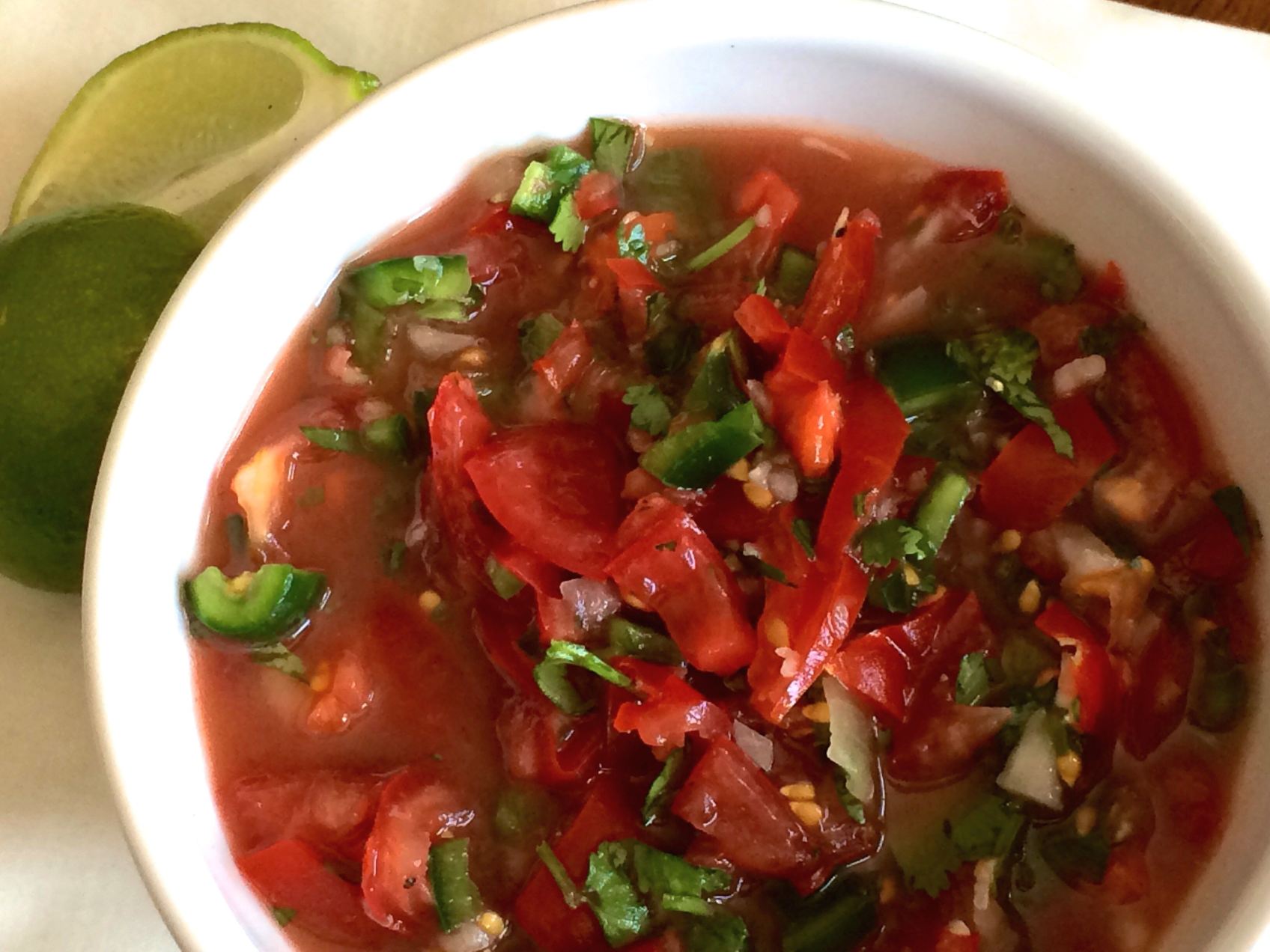 And, hey, at the very least, you learned that this salsa could also be called rooster's beak, so I hope it was worth reading a second post from me today for that reason, if nothing else.
I know my life is enhanced having this information.
—
Learn more about food personality and health expert Dr. P.K. Newby, or her experience as a nutrition scientist, professor, and consultant here. You can also follow her on FB, where she is much more active than on this blog. Or, click here if you just want to ogle food porn featuring plant-based, globally-inspired cuisine.