Making Mango Salsa: Ten Minutes to Delicious
Thursday, May 2, 2013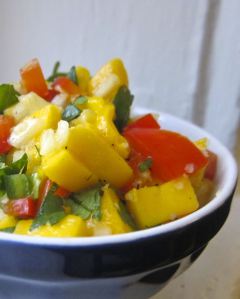 Making salsa is in many ways more an art than a science. For sure you need a few standard ingredients, like lime juice, but salsas are made with any number (and combination) of fruits and vegetables. Incredibly versatile, they can be used in a wide array of dishes far beyond the traditional chip-and-dip fashion or accompaniment to tacos and other Tex-Mex fare.
With their sweet flesh, toothsome texture, and provocative yellow color, Mangifera indica makes an excellent salsa that perhaps you've had before. Like other brightly colored fruits, mangos are bursting with good stuff like fiber, vitamins C, E, and B6, carotenoids like beta- and alpha-carotene (responsible for the bright yellow color), potassium, and copper. While not local to these parts and thus not part of my usual fruit fare, I've been on a mango kick lately after finding them on sale at the store, hence today's salsa.
And, yes, mango salsa does go well with chips; try blue corn instead of yellow for a colorful presentation. It's also excellent with grilled fish on a balmy summer evening or with roasted fish in colder temps when you're craving the bright flavors of warmer climes. It's particularly wonderful with succulent crab or fish cakes. You get the idea. I'll let you know what I was using it for in a separate post (update: here it is!) but this article is simply the recipe and photo to help you think beyond tomatoes when it comes to salsa. And—because no doubt it's not news to you that mango makes a fabulous salsa—to provide inspiration for making it at home because it's ridiculously easy, just like guacamole.
Mango Salsa
Ingredients and Instructions
1-2 mangos, chopped
1/2-1 red pepper, diced
1/2 yellow onion, chopped
Juice from 1-2 limes, freshly squeezed
1-2 clove(s) garlic, crushed
1-2 tablespoons cilantro, chopped
1/2-1 teaspoon white balsamic vinegar
Olive or other vegetable oil, drizzle (optional)
1/2 jalapeño, finely minced (optional)
Pinch of salt and ground black pepper
All you need do is mix everything together and adjust the seasonings and proportions as desired. Note that the flavors do come together after the salsa has sit, so ideally you'd wait 10-15 minutes or so, then taste again and readjust as needed. (I often find myself adding more lime juice and a just a touch more olive oil.)
Preparation Notes
You can see why I said making salsa is an art. See all the optional ingredients? It's up to you to make it however you want. The mango, onions, and lime juice are key, but what else you add is up to you. I believe strongly that red pepper and garlic add quite a lot, both in flavor and color, but you'll find recipes with no garlic or additional vegetables beyond onion. You can omit the oil—fewer calories—but fruity olive oil is a great match and helps your body absorb the fat-soluble phytonutrients present in mango; a drizzle or two is all you need. Finally, cilantro is truly the "optional" ingredient: beyond the fact that many people loathe cilantro, some people add this herb to salsa while others don't. Honestly, I tend to prefer the taste somewhat more without, but then again I enjoy the contrast in flavor and texture and my husband loves cilantro (which he refers to as "fresh coriander," as Indians are wont to do). For these reasons, I usually throw it in. Up to you!
Oh, and it took basically ten minutes to put this together.
And I had to cut myself off from simply eating it out of the bowl with a spoon.