Southwestern Scrambled Eggs (and Other Breakfast Musings)
Saturday, August 25, 2012
Mexican Food: It's Not Just For Dinner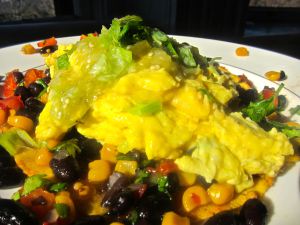 It feels good to be getting a lot of my dishes featuring global cuisine up here of late. While using big flavors and spices is key to any fabulous cookery, it's especially important in plant-based meals to bring those vegetables to life. I have many more dishes lined up featuring Indian, Japanese, and Greek cuisine, but I'm currently on a Mexican roll so I'm going to stick with that for a few more days.
Mexican food isn't just for dinner or lunch, you know. Of course, this makes perfect sense: I'm pretty sure Mexcians eat breakfast, too. I also know from a lot of the comments I've been getting—and thank you for all of those!—hat you love Mexican food just as much as I. Thus, if you've not experienced some of the finer Mexican breakfast fare—Southwestern, Tex-Mex, whatever, I'm not splitting hairs here—then here's your cooking inspiration for the day.
It's an Egg Fiesta!
One of my favorite brunch treats is to take eggs and dress them up all nice and fancy in Southwestern duds. Yes, eggs are a wonderfully nutritious food that do not cause heart disease when consumed in moderation; that's decades-old science that has evolved. (Longer post on egg nutrition is coming soon, but that's the upshot, despite the single-study sensationalism you might have seen in the news this week.) I certainly enjoy making homemade pancakes every now and again, especially when they're bursting with summer blueberries and whole grain goodness. And, of course, my regular breakfast is a piece of whole grain toast with peanut butter, black coffee, and a piece of fruit or berries.
There are lots of ways to bring Southwestern flair to egg dishes, whether breakfast burritos or Huevos Rancheros. I threw together this recipe based on the ingredients I had in my fridge: eggs, corn tortillas, cilantro, scallions, black beans, corn, onion, and red peppers. The dish was also inspired by two things in particular: 1) I had just made salsa verde the night before for a cooking demo I did at a party and 2) I wanted to thank my husband with a special breakfast for helping me load-in for said event. (I was doing a demo involving chili, nachos, guacamole, salsa verde, and pomegranate martinis, and it was rather involved; more here about that event.)
The Quick How-to (and One Glorious Photo)
I lightly fried a corn tortilla in a bit of canola oil until crisp. The next layer included a black bean and corn salad-cum-salsa (similar to that described here but with different veggies and the addition of lime juice and finely diced jalapeño). Two softly scrambled eggs (cheddar or jack cheese optional) were placed atop the salad and the whole shebang was garnished with salsa verde and a few scallions. Daunted by this recipe? It does take a few minutes to pull together, but a quicker option with similar ingredients is my breakfast taco.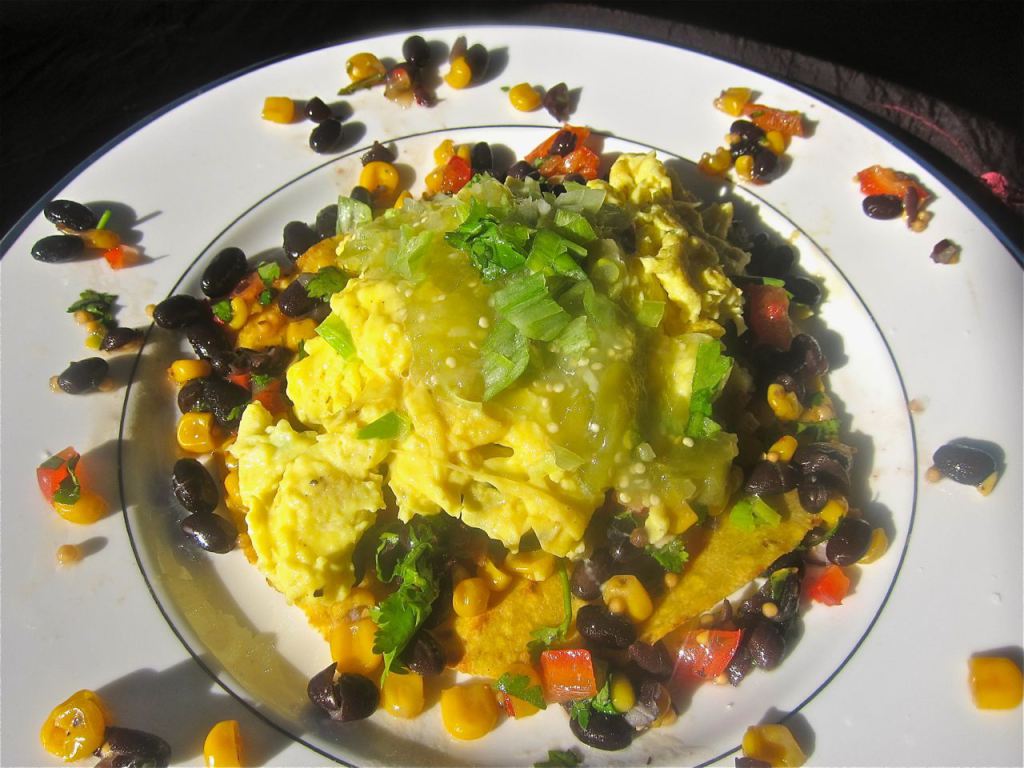 Nutrition Showdown: Southwestern Eggs v Granola and Yogurt
Well, I said I'd get to the egg thing in detail another time. Suffice to say at the moment that the whole egg is a nutrient-dense food high in protein and other vitamins and minerals. Add to that some whole grains from the tortilla and the variety of vegetables and beans in the salad and you've got a powerfully nutritious brunch high in both soluble and insoluble fiber from all of the plant foods. The heart-healthy oils used in small amounts here also increase the bioavailability of fat soluble nutrients found in the vegetables, like carotenoids. Remember that most people do not consume enough vegetables or beans that are optimal for chronic disease prevention and incorporating them at multiple meals is a way to increase the overall healthfulness of your diet. You can also tell how nutritious this meal is by the variety of bright colors on the plate. (More on dietary guidelines for healthy eating here.) This is not to say that I make elaborate dishes like this every day: of course I don't. Rather, it's a festive take on eggs with amazing flavors that I made as a special dish for my husband. Further, its particular blend of macronutrients (i.e., high in fiber and protein) will leave you feeling full all day long, perhaps even until dinner.
Did you think fruity yogurt and granola (or granola bars) is a healthy breakfast? Think again. Sure, there's some good stuff in there like calcium, vitamin D, protein, and oats, but the good is outweighed by the bad: that breakfast is loaded in sugar. I sometimes serve fresh berry purée with plain yogurt and homemade granola for dessert—which is what it is. If you're looking for protein and grains for a smaller, simpler breakfast, think about peanut butter on whole grain toast, which provides protein, legumes, and grains without all that sugar. A ready-to-eat breakfast cereal can work, too, but read the labels, as they vary widely in their nutrient content: select one that's whole grain, high in fiber, and low in sugar.
Now. I've been craving eggs all week, and it's a Saturday. Time for me to make brunch.
Is it too early for bloody marys?