Don't See Red: Expand Your Horizons with Salsa Verde
Tuesday, May 1, 2012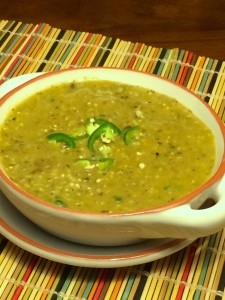 Salsa is amazing, and not just in a "dancing under the stars on the boardwalk in breath-taking Sydney Harbor with a handsome man I just met my first night in Oz" kind of way. (True story.)
Nope, I'm talking about the versatile condiment that can be prepared using a variety of fruits and vegetables—tomato, black bean, corn, peach, mango, and so forth—and has many more uses beyond chips 'n' dip. There are likely as many different varieties of salsas as there are ways to utilize them. The first use that comes to mind for most is tasty complement to tacos, burritos, enchiladas, fajitas, chili, nachos, huevos rancheros, and the like. (I love Mexican food!) There are many other terrific ways to use salsa, too, like on a gorgeous piece of grilled fish. Whatever your pleasure, the upcoming Cinco de Mayo holiday is a great time to try a new salsa. And, since it's way too early in the season for some of my favorite fruit salsas, we'll begin with salsa verde, or tomatillo salsa.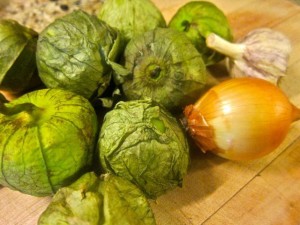 Toma-who now? I'll bet not everyone knows what a tomatillo is, so let's begin with a brief intro before moving on to the recipe and a few serving suggestions (healthy food porn!). A staple of Mexican, Southwestern, and Latin American cuisine, the tomatillo is a tart culinary vegetable (botanical fruit), which is a member of the nightshade family,as is eggplant and tomato. It looks like a small green tomato and comes in its own cute little wrapper. The inedible papery husks are removed to reveal a firm, usually green fruit most commonly used to make salsas and sauces. About 20 calories in half a cup, the tomatillo has a bit of fiber and pro-Vitamin A carotenoids important in eye health as well as a few other vitamins and minerals. It's no nutritional powerhouse like kale or squash, but who else knows what's in there that we nutrition scientists just haven't discovered yet? The broader your intake of vegetables and fruits, the better off you'll be. Regardless, it's a low-calorie veggie that makes a fun alternative to red salsa and brings zing to a variety of dishes.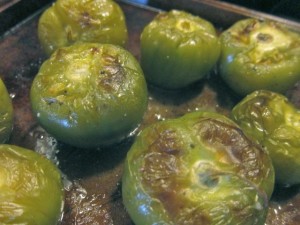 Roasting Tomatillos.Start by unwrapping and washing 7-9 tomatillos; they are naturally sticky.Toss them in a bit of EVOO (extra-virgin olive oil) and season with a touch of salt and fresh black pepper.Pierce gently in 2-3 places to avoid an improbable but not impossible tomatillo explosion, then roast until the surface is brown toss them onto a different side for another 15 minutes or so. Prod with a sharp knife. If it enters easily, they're done, if not, toss onto another side and continue roasting until soft. Depending on the size of the tomatillos, total roasting time will be between 20 and 40 minutes; you may need to remove the smaller ones first.
Making Salsa. Roughly chop 1/2-1/4 an onion and a few cloves of garlic and scrape into a food processor. Add the tomatillos. Pulse until the salsa is the desired degree of chunkiness. Squeeze half a lime into the mix. (As when making guacamole, start with half and, depending on how much juice there is, add more if desired.) Add a small splash of white balsamic vinegar and pulse again. If you like heat, add finely diced jalapeño. Some people also include cilantro. You can further adjust the seasonings with a touch of agave nectar or EVOO, if you like. Note: you can chop the tomatillos by hand to save yourself some dish washing; I've done both, and either works perfectly fine.
Cooking Notes. If you've never tried tomatillo salsa, be forewarned that, unlike its sweet red counterpart, tomatillos are quite tart. This is why it's such a great accoutrement to so many dishes, of course, especially savory-cheesy things like Mexican food. However, if you find yourself puckering—but go you for giving it a shot!—you could try adding some less-acidic foods for balance and texture. Corn kernels work great, for example, and so does chopped avocado. Or, you could add some tomato and do a "best of both worlds" salsa, which is also very pretty. I've made all of these variations either for presentation purposes (i.e., color) or simply to keep things interesting. In these cases, however, I recommend chopping everything by hand to avoid blending yourself up a brownish smoothie instead of colorful, chunky salsa. No one wants to eat that.
Final words of tomatillo encouragement. In addition to the above non-chip preparations, you can of course also dollop a bit of tomatillo salsa on individual nachos, just as you would with tomato salsa or heart-healthy guacamole. If you're still nervous about trying the tomatillo, go for guac! It's an acquired taste, but once developed avocados are down-right addictive. Whichever, I encourage you to expand your horizons beyond the same-ole standard tomato salsa. Live a little! That is, in fact, what Cinco de Mayo is all about.*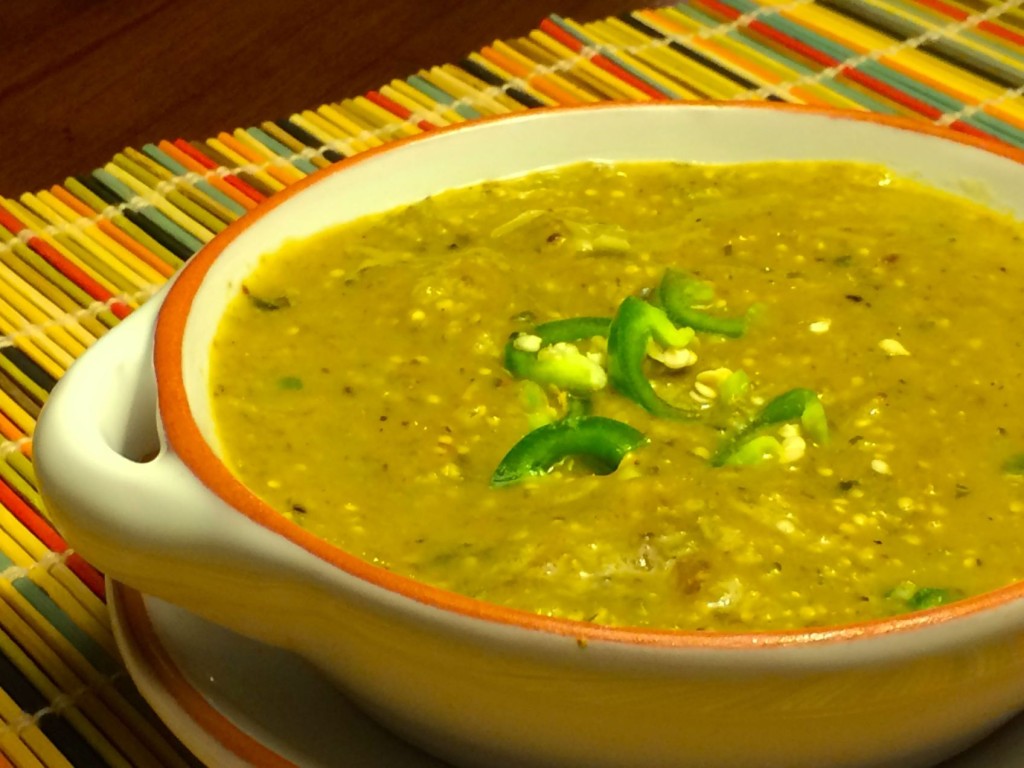 *Yeah, I just made that up, poetic license and all. But here's the real scoop on Cinco de Mayo, and if you read the article you'll see that apparently in Vancouver there is a sky-diving event to commemorate the holiday. I feel like that puts into proper perspective my humble request for you to, er, get a little crazy by trying a new salsa. And if you're still reluctant, there's always celebrating Caribbean-style with an air-guitar contest. (Huh?) Doesn't anyone just drink Mexican beer, for goodness' sake? Yes, apparently, in Malta – and certainly here in the US.
Ah, Wikipedia.