Black Beans: Quick, Easy, Delicious
Tuesday, May 5, 2015
Black beans get south-of-the-border treatment in this easy recipe that is great paired with brown rice or all on its own.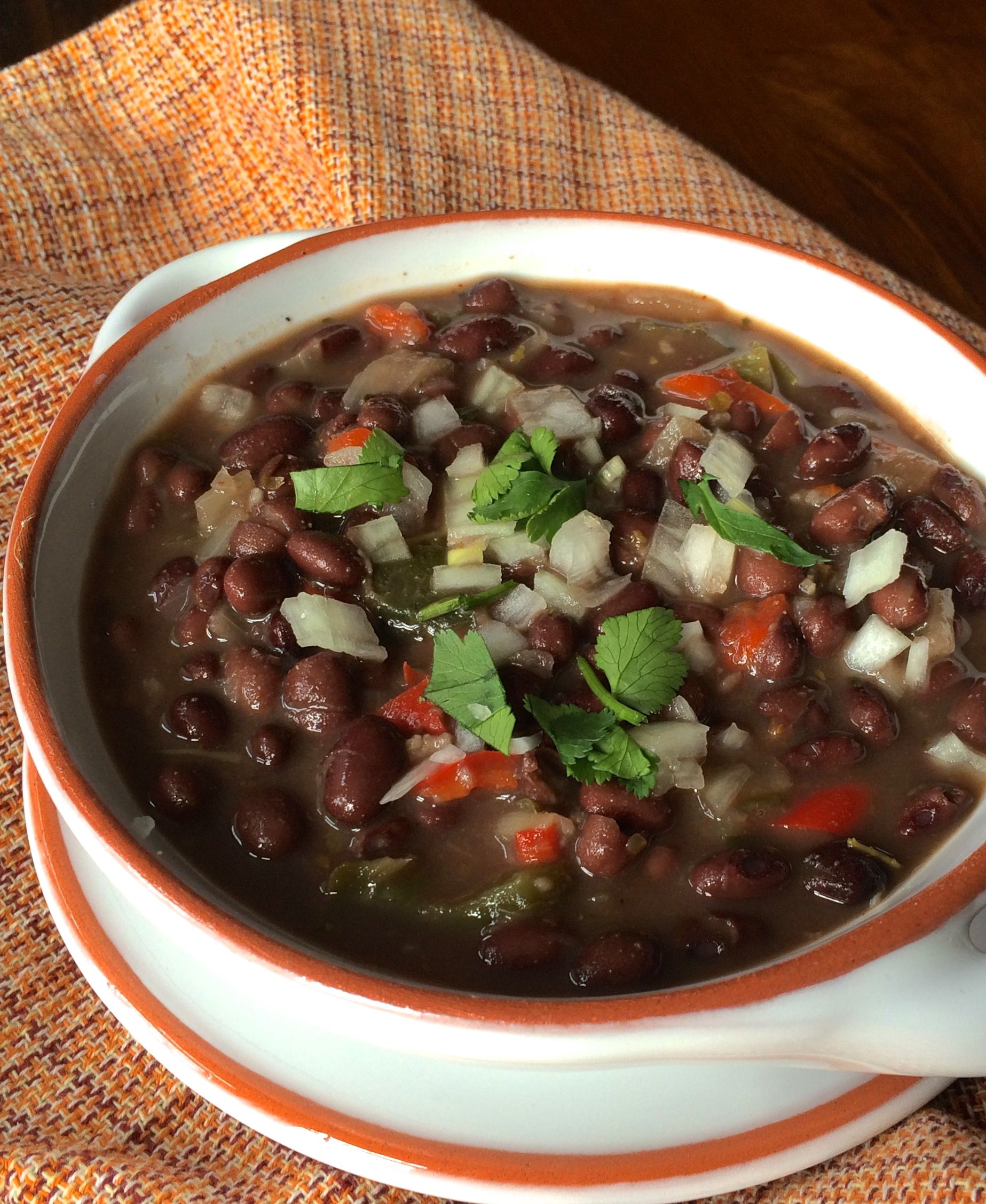 Happy Cinco de Mayo! I began my own party with a round-up of salsas last week and a full menu of tasty Mexican recipes, which has since been updated with scrumptious things like Mexican cauliflower. (That was one of my most popular 2014 recipes, by the way.) Between that and margaritas, watermelon to pomegranate to classic strawberry, I've got you covered.
Today I'm featuring a staple of South-of-the-Border cuisine popular in Mexico, Cuba, Brazil, and beyond. There are tons of variations, of course. Mexican black beans include spices like cumin and chili powder and perhaps cayenne and jalapeños (and tomatoes, if you're so inclined). Most Cuban recipes are tomato-less and feature only oregano.
This dish is stove to table in just fifteen minutes—yes, really!—and has only five key ingredients: oil, onion, beans, green pepper, oregano. The remaining spices and veggies are simply to your preference, and the final seasonings (lime juice, sugar, and cilantro are all optional for flavor and balance. Yes, I recommend adding all of these things, but do what makes you happy. The key, as always, is to suit your taste, in whatever time you feel like spending in the kitchen.
Black Beans
Ingredients
2 tablespoons safflower oil (or any vegetable oil)
1/2 medium onion, chopped
1/2  poblano pepper, chopped
1/2 red pepper, chopped
Salt and freshly ground black pepper, to season
5 garlic cloves, minced
1 1/2 teaspoons dried oregano
1/2 teaspoon chili powder
2 teaspoons cumin
Pinch or two of cayenne, to taste
2 15-ounce no-salt added black beans with their liquid (or 4 cups beans from dried plus 1 cup water)
1 cup water or vegetable stock or 1 15-ounce can stewed or chopped tomatoes
Juice from 1 lime, freshly squeezed
1 heaping teaspoon brown sugar or 1 teaspoon agave nectar, to taste
1/4 cup chopped cilantro with additional for garnish (optional)
Instructions
Heat oil over medium heat until shimmering, then add in chopped onions and pepper(s). Season with salt and pepper and sauté until soft but not browned, about 5 minutes. Add garlic and oregano (and other spices, if using) and stir until fragrant. Add beans and liquids (and/or tomatoes), bring to a boil, then lower heat and simmer for five minutes. Taste, and reseason with salt, pepper, and seasonings as needed. Taste again and finish the dish with fresh lime juice for acidity and sugar for sweetness, if desired, and/or cilantro.
Makes about 6 cups. Recipe can be doubled and freezes beautifully.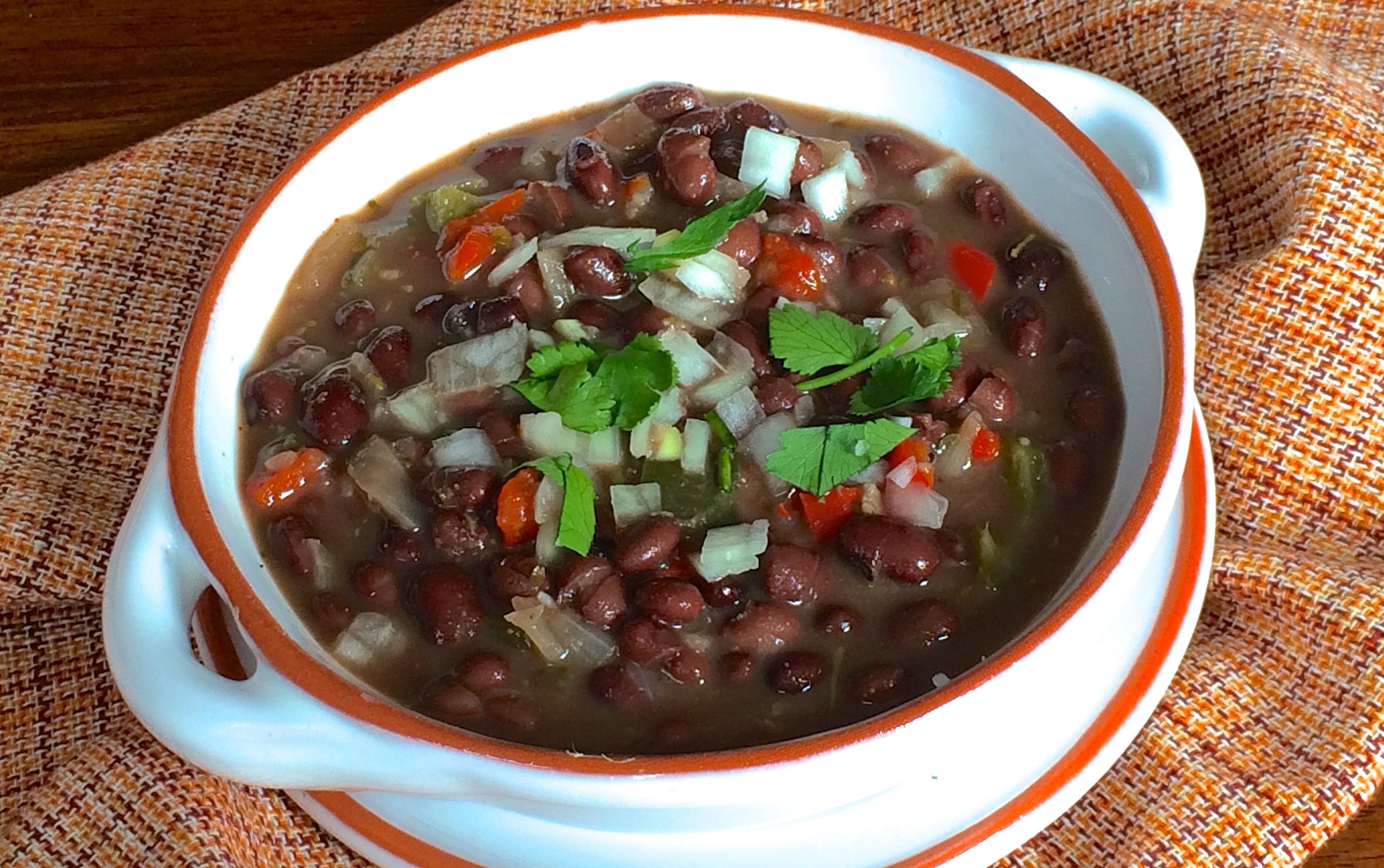 Black beans are packed with protein and fiber (about 15 grams of each in one cup); are a good source of iron; provide many powerful phytonutrients (plant chemicals beneficial to health); and have been associated with lower risk of type 2 diabetes and cardiovascular disease. They're a more sustainable choice for our planet compared to animal protein, too. As important, they're absolutely delicious on their own and can also be featured in a number of different recipes that I'll share with you this week. Stay tuned, and happy Cinco de Mayo!
—
Learn more about food personality and health expert Dr. PK Newby here, or her experience as a nutrition scientist, professor, and consultant here. Or click here if you just want to ogle food porn featuring plant-based, globally inspired cooking.