A Big Salad Goes Mediterranean on Meatless Monday (Recipe)
Monday, May 16, 2016
This colorful "big salad" features mixed greens, farro, and other goodies dressed in an easy to make orange vinaigrette. It's perfect for Meatless Monday—or any day.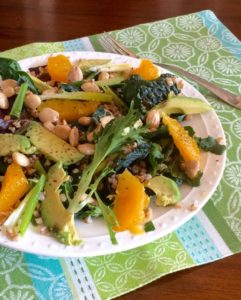 If you're still not familiar with Meatless Monday or my "big salad" for supper concept, this super tasty recipe featuring Mediterranean vegetables and whole grains is a great way to start.
As with any "big salad," the goal is to bring together bright colors and big flavors that play well together in a way that makes salad a meal. You'll want to make sure you have some protein in there, to help you feel full, as well as some unsaturated fats—salad dressing!—to help you absorb the fat-soluble nutrients in the meal. For five tips on the how-to, read my Zester Daily article published today.
And enjoy!
Mediterranean Salad
Salad. Build your base with whatever greens you like: the darker in color, the better. Here I used a combination of Dinosaur kale, spinach, and mesclun, which I tossed together with cold farro (an ancient grain) I had left over from my Moroccan stew. I then sliced avocado (one half); segmented a seedless navel orange (one half); scattered one some Marcona almonds (2 tablespoons or so); and topped the whole thing with scallions. Done.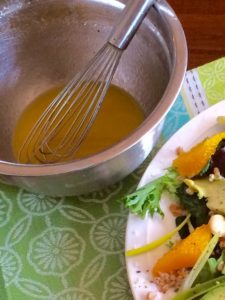 Orange Vinaigrette. Segment your orange by first removing the peel with a paring knife, and then remove the slices by cutting right at the membrane on each side. Do this over a bowl, which will allow you to catch the juices. Next, squeeze the remaining juice out of the peels you cut off; there is always some flesh there, and we'll put it to good use. Note if you're make the salad for more than one you should use the entire orange; I needed just one half for me. Add about 1 teaspoon Dijon mustard, 1 teaspoon white balsamic vinegar (or another vinegar of your choosing), and salt and freshly ground pepper to taste. After the mixture is combined, slowly whisk in olive oil until it gets thicker (emulsifies). Taste and add additional vinegar and oil, as you wish.
Prep Notes. Use whatever proportions you like here, especially on the mixed greens. Normally my greens are far more mounded than shown in this picture; I wish I had added more. I like my grains to be an accent rather than take over the salad, which is also obvious from the photo. Feel free to add more, but keep in mind that farro is more energy dense than salad greens at 200 calories per cup versus around 30 in the same quantity of kale. And whether you use farro or something else, make sure you choose whole grains, not refined. Finally, do note that a smaller version of this salad, minus the farro, makes a lovely side salad served as part of a Mediterranean-themed meal.