Eggplant Parmigiana, the PK Way (Recipe)
Friday, November 6, 2015
I adore eggplant parm, and my recipe keeps the focus on summer-fresh vegetables rather than hiding them in a sea of fried fried. Don't knock it until you try it!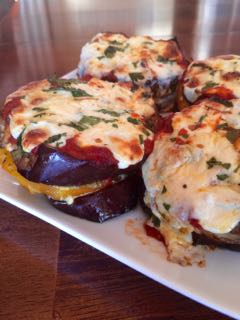 Dear readers, it's been too long! I've been caught in a whirlwind of teaching, speaking, and research activities since the semester began in early September. They've all been fabulous, though they have kept me from being in touch with you, alas. When I'm not around, do remember that you can always ogle food porn and search my recipe page whenever you're seeking ideas for any occasion, any time.
Anyhow, I'm happy to finally end my unplanned blogging moratorium with this sumptuous recipe for eggplant parmigiana. It's appropriate today for all kinds of reasons. For one, the warm weather has led to a long tomato season (!), which means I'm eating as much of them as I can before they're gone until next August. In addition, I was just in Italy speaking at Expo Milano 2015, this year's world's fair dedicated to "Feeding the Planet, Energy for Life."
And I obviously adore eggplant parm.
Indeed, I first wrote about this sexy little number some years ago; that variant also includes radish greens, in case you were wondering. Thus today's post is really just another shout out to the Italian classic. I felt it especially worthy as when I made it a few weeks back, it got a huge response on Facebook (stay in the know by liking the page), so apparently I'm not the only one who loves it. Let me tell you, had I known it was going to be so popular I would've created a prettier picture and setting. Thrown some parsley on it, at the very least. Nonetheless, what remains is a real-time, hot-from-the-oven, I'm-about-to-eat-dinner-but-should-take-a-quick-pic photo that show's what's most important: meaty slabs of roasted eggplant; sweet tomatoes; zesty tomato sauce; and melty mozzarella to top it all off.
The thing is, though, while I've made eggplant parm many times, this was by far the best version. It was so, so good, and I wish I were eating some right this very moment. There are a few reasons why, so after consulting the original recipe for details, make sure to follow the five steps below—just further attention to cooking detail, really—to make this dish really pop.
Eggplant Parm: Five Steps to Awesome
Begin with the freshest, most delicious veggies you can find, including plump purple eggplant and, ideally, colorful heirloom tomatoes.
Roast at extremely high heat (450F or 475F) until the eggplant slabs are browned, almost seared, on each side (turn over half-way during cooking). Slice them thick enough to create a toothsome bite, and don't let them get mushy. Same thing with tomatoes. (All are seasoned before cooking with olive or grapeseed oil, sea salt, and freshly ground black pepper.)
Assemble the terrine like this: eggplant with a thin smear of pesto then softened goat cheese; slice of tomato; few spoonfuls of tomato sauce; few pieces of fresh mozzarella; another slab of eggplant with another smear of pesto and goat cheese (facing the inside); a few spoonfuls of tomato sauce; fresh mozzarella. (More details are here.)
Use homemade pesto (genovese or parsley is fine) and fresh tomato sauce for maximal flavor. (There are obviously good store-bought substitutes but why not watch my cooking videos to see how easy it is to do it yourself? It's fun and amazingly delicious, and you can freeze the extra.)
Toss fresh buffalo mozzarella slices with a touch of olive oil, chopped parsley, and a pinch of crushed red pepper and scatter atop your assembled terrine. Season with a black pepper and roast at high heat until mozzarella is fully melted and browned in some spots.
Make. Eat. Enjoy.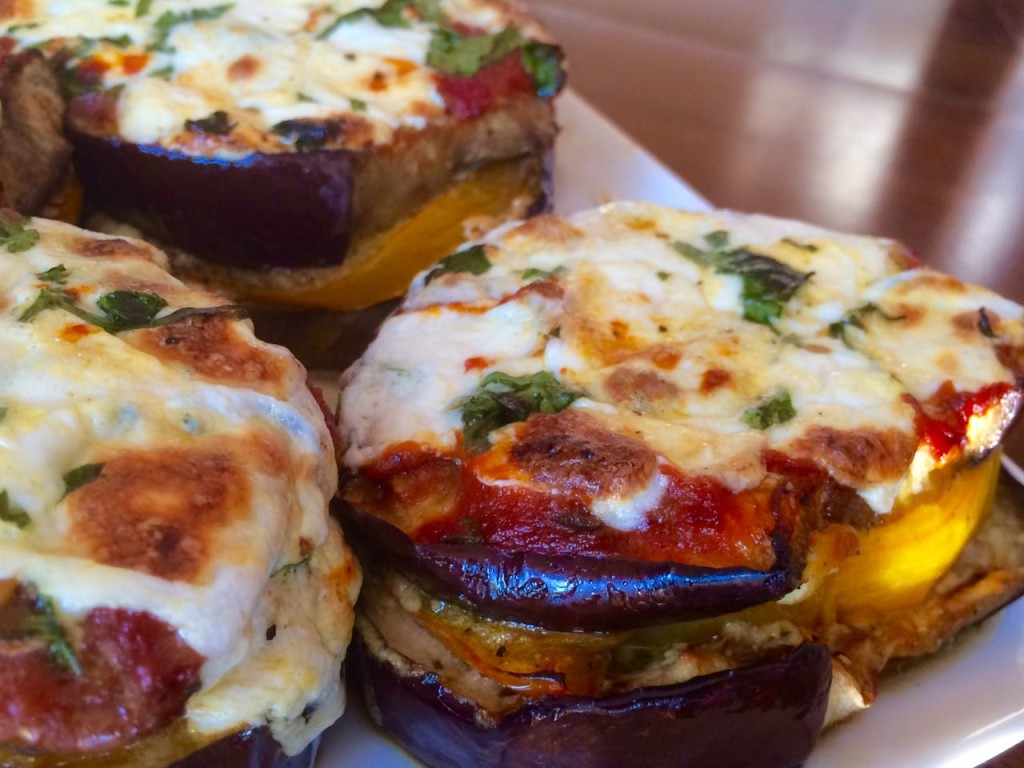 —
Learn more about food personality and health expert Dr. P.K. Newby, or her experience as a nutrition scientist, professor, and consultant here. You can also follow her on FB, where she is much more active than on this blog. Or, click here if you just want to ogle food porn featuring plant-based, globally-inspired cuisine.
That is all.