Oozy Boozy Chocolate Bourbon Pecan Pie (Recipe)
Thursday, December 22, 2016
The ooey gooey goodness of pecan pie is studded with melty chocolate chunks and a splash of bourbon in this ravishing pie, a perfect indulgence for the holiday season.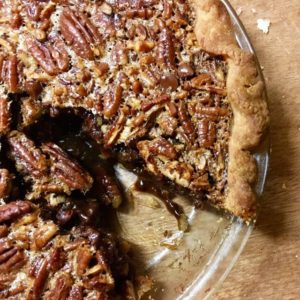 Last year at this time I was blogging about some of my favorite healthy holiday recipes, a mix of plant-based favorites elegant enough for a festive table along with a few sumptuous desserts. The round-up of days one through fourteen is here, if you like (and there are a bunch of others in that set, too, just search under "healthy holidays").
This autumn my blogging has taken a back seat to my other activities (e.g., I teach in the fall), and I hope today's post makes up a bit for my absence because, trust me, this pie is truly mouth-watering. Believe it or not, I could not find a recipe on the entire interwebs that had all of my favorite elements in one recipe the way I like them: while traditional pecan pie mixed with melted chocolate into a homogeneous mixture is totally delish, I love when the two remain separate, such that the sweet pecan pie filling has a surprise layer of melty chocolate in there at the bottom. I also learned, after decades of baking pecan pies, that pre-toasting the pecans makes a tastier pie.
I'm happy to share the result of this glorious experiment: the best pecan pie I've ever made.
Chocolate Bourbon Pecan Pie
Crust
1 1/4 cups white whole wheat flour (or unbleached white flour if you prefer)
2 teaspoons white sugar
1/4 teaspoon salt
1 stick (8 tablespoons) cold unsalted butter, diced
1/4 cup ice water
Filling
2 cups pecans, toasted
3 large eggs
3/4 cup dark brown sugar
2/3 cup cane syrup or light corn syrup
1 teaspoon vanilla extract
3 tablespoons unsalted butter, melted
3 tablespoons bourbon
3/4 teaspoon salt
1/2 cup semisweet or bittersweet chocolate chips
Instructions
1. Grab your food processor and pulse the flour with the sugar and salt a few times to combine. Add the diced putter and pulse a few more times until the mixture resembles coarse sand. Add ice water and pulse a couple of more times until the mixture begins to hold together in large clumps, then dump onto a floured surface and pat the dough together into a disc (about 4 inches in diameter). Wrap in plastic and toss into the fridge for 30 minutes, or up to a few days if you like.
2. Roll out dough into a 12-inch round, approximately, then transfer to a a 9-inch glass pie plate. Trim the overhang to 1/2 inch, as needed, and fold the edge under and/or crimp decoratively to your liking. Refrigerate until firm while preparing the filling.
3. Preheat the oven to 375°F and, while the oven is warming, toast the pecans until fragrant and browned, about 7 minutes. Chop once cooled or leave as halves, whichever you prefer. Whisk the eggs with the brown sugar, syrup, vanilla, melted butter, bourbon and salt in a large bowl until combined. Stir in the pecans and chocolate chips.
4. Pour the filling into the pie shell. You may have chocolate chips hanging around in the bowl at the end, so make sure all those get in and are evenly distributed throughout the pie; most will sink during baking.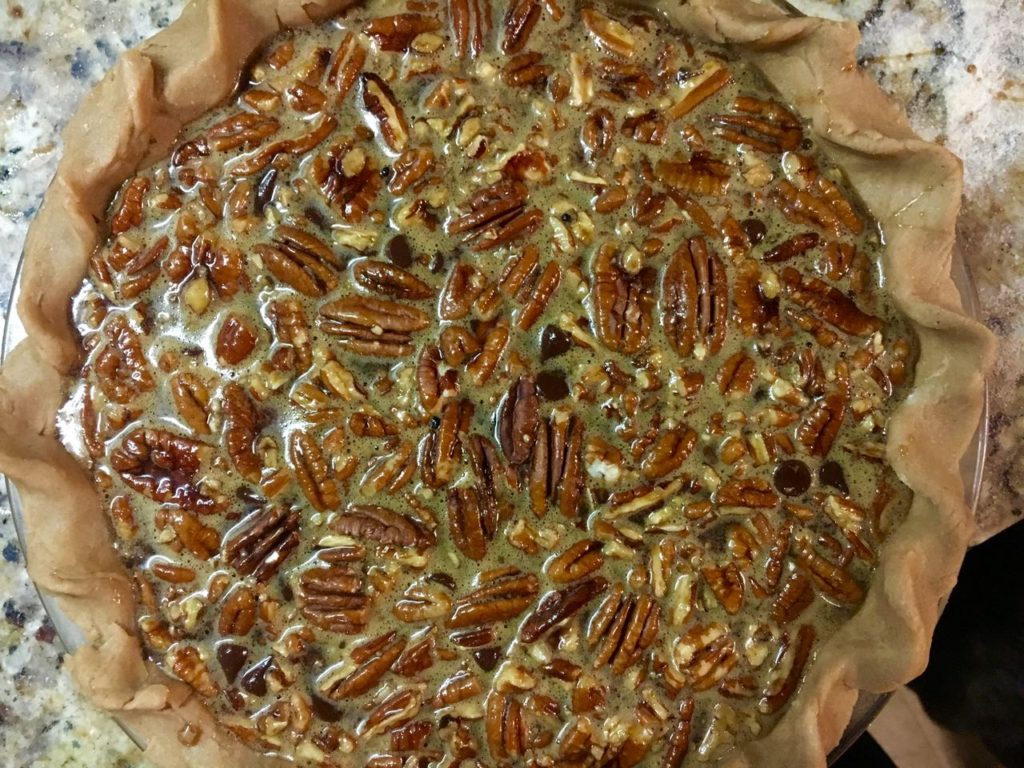 5. Place pie carefully on the penultimate shelf of the oven, with a piece of foil on the bottom-most rack below the pie in case it drips over (though it shouldn't). Bake 50-55 minutes or until the center of the pie is set; you will see a bit of cracking on the sides, which is normal. You will likely need to tent the crust with foil halfway through the baking time if the edge begins over-browning. Transfer the baked pie to a rack and cool for one hour or more.
Oh my goodness.
Man, is this pie incredible. Also, kinda boozy. Which I love. But if you don't have a thing for whiskey, as do I, then you should go ahead and reduce the alcohol to 2 tablespoons. If you'd like more of a kick later, whatever quantity you choose, go ahead and whip up some heavy cream spiked with a teaspoon or two of bourbon. (I didn't get that far, as you can see from this unadorned slice.)
Happy Holidays, dear readers! Bless your kind hearts for reading. Truly.
Also, make this pie.
—
Learn more about food personality and health expert Dr. PK Newby here, or her experience as a nutrition scientist, consultant, and professor here. Or click here if you just want to ogle food porn featuring plant-based, globally inspired cooking.