Roasted Brussels Sprouts with Caramelized Onions and Toasted Hazelnuts
Wednesday, November 26, 2014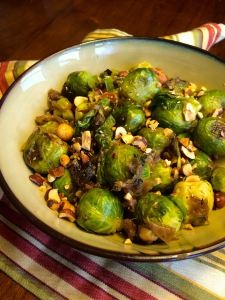 Still searching for the perfect side dish for Thanksgiving? Look no further, The Nutrition Doctor has got you covered. Here I take three separate elements—roasted Brussels sprouts, caramelized onions, and toasted hazelnuts—and put them together in a tantalizing way that will make people stand up and cheer.
Well, maybe not cheer, exactly, but it will certainly wow your guests who still have nightmares about overcooked sprouts, a smelly mess that no one wants to eat.
Nothing too difficult about this recipe at all. A few ingredients and three simple steps and you're done. And you really don't have to measure anything here, just use whatever amounts you need based upon the number you're feeding—a handful per person, say—and go from there. Experienced cooks can put together these elements using their own methods while beginners can click on the links for more detailed info on how to roast Brussels sprouts and caramelize onions. It's super easy, so if you've never done it before don't let that stop you.
Also, prepare to be amazed.
Roasted Brussels Sprouts, Caramelized Onions, and Toasted Hazelnuts
Ingredients: Brussels sprouts, onions, extra-virgin olive oil, thyme, hazelnuts (aka, filberts), kosher or sea salt, and freshly ground pepper.
1. Caramelize the onions. Slice onions thinly; I use about 3 or 4 large yellow ones because they shrink down considerably when cooking and extra can be saved in the fridge or freezer for another time. Heat 2 tablespoons of olive oil in a pan to medium-low and add onions, cooking until soft and sweet. (More here.)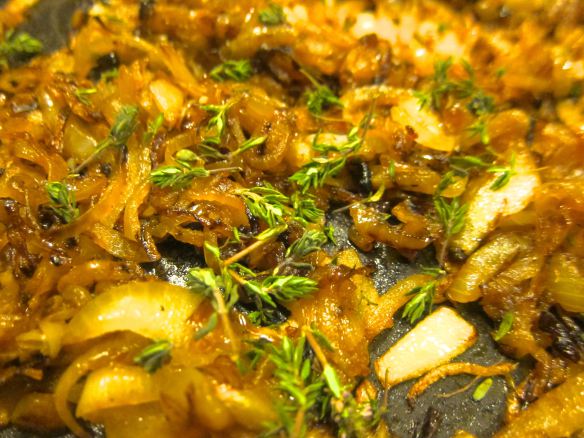 2. Roast the Brussels sprouts. Preheat the oven to 450 degrees F, toss sprouts with olive oil, season with S&P, and cook for about 20 minutes. (More here.)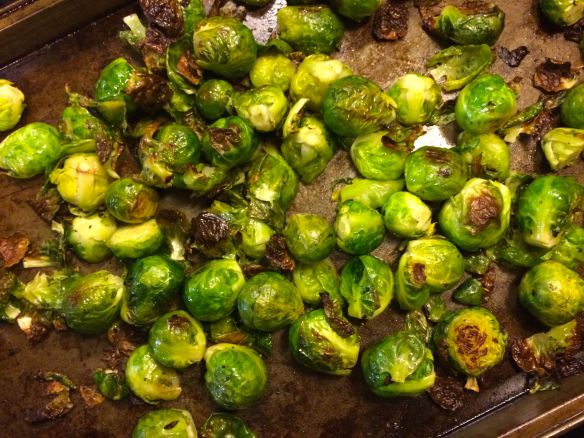 3. Toast the hazelnuts. Turn the oven down to 350 degrees F. Place hazelnuts on a baking sheet and toast until fragrant, about 5-8 minutes. Remove from the oven and throw a towel over them for a minute or so then rub off the skins; no need to remove them all, since they add color and texture to the dish. Chop coarsely, leaving some whole.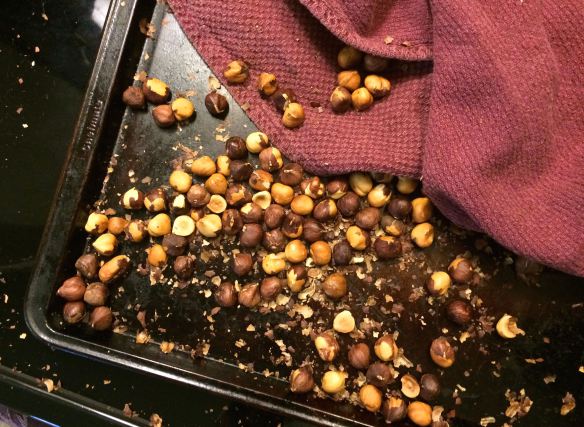 4. Mix it all together. Put sprouts, onions, and nuts together in a bowl in whatever proportion pleases you and mix until combined. Taste and reseason with additional salt and pepper as needed. Spoon into a serving dish and garnish with additional nuts. Feel free to top with an extra drizzle of olive oil for richness and/or a splash of vinegar (sherry, wine, balsamic, whatever) for zing if you like. Or, you could get even fancier with a maple dijon vinaigrette, which is fabulous but not at all necessary.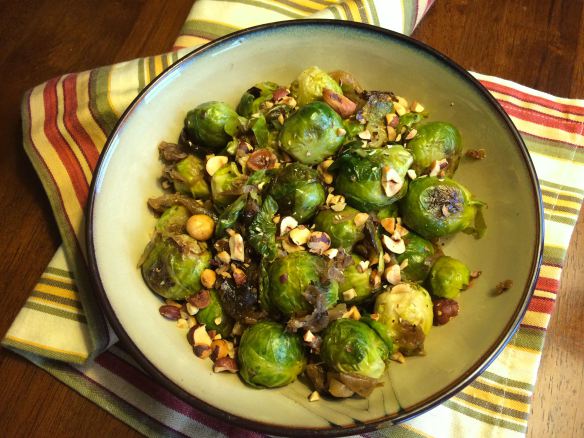 Gluten-free? Check. Paleo? Check. Vegetarian? Check. Vegan? Check. Healthy? Check. Planet-friendly? Check. Scrumptious? Double check. Beyond being a crowd-pleaser for veggie-loving folks, this recipe also fits beautifully into the diets of your friends and family with specific dietary preferences.
And on the nutritional front, these little green bundles, like its headless cousin kale, are a source of a great many vitamins and minerals, including vitamins K, C, folate, B 6, B 1, manganese, copper, and potassium. They have about 60 calories per cup (before the olive oil and other ingredients, that is) and are particularly high in glucosinolates, a powerful group of phytonutrients important in cancer prevention and DNA protection. Put that together with the minerals and heart-healthy unsaturated fats in filberts and the flavonoids and anthocyanins in onions—which are more of those mighty phytonutrients—and you've got a salacious and satiating side dish for Thanksgiving, or any day.
So move over, kale. Step aside, cauliflower. It's time Brussels sprouts started getting their due respect on the dinner table, and this dish gives them the starring role they deserve.