The Holiday Diva (aka, Pomegranate Martini)
Friday, December 16, 2011
This drink is my signature cocktail, and the picture here reflects when it was served to all of the guests at my Jacques Pépin food and wine lecture in 2015.
* * * * *
A Diva is Born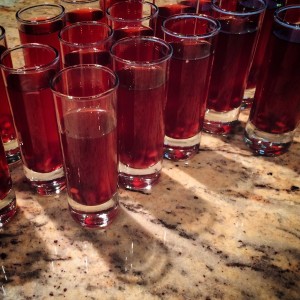 No, I am not talking about myself. I'm neither nutrition grinch nor egomaniac. My version of a pomegranate martini, I created this luscious libation a few years back for one of my theatre company cocktail soirées. I named it "The Diva" given performers were the main attendants at the party.
(To all of you actors out there reading my blog, I say this with nothing but love and admiration for your incredible talents, of course. You're awesome. But certainly you don't need me to tell you that, right?)
Great name for a martini, eh? Just remember, you heard it here first … though I wouldn't be surprised it were already in use somewhere. There are very few unique ideas in either science or art, alas. Anyhow, if you've been following my blog, you know that I delight in creating liquid concoctions almost as much as I enjoy making meals. This festively colored cocktail features the pomegranate, which is often used symbolically during Yuletide. The pomegranate also enjoys prominence among many other religions and regions of the world. Regardless, it's a fabulous drink, anywhere and anytime, whether of deep spiritual meaning or simple homage to the diva(s) in your own life. And it's okay if one of 'em is you.
How to Make a Diva
Start with an otherwise normal human being, throw them onstage in front of hordes of audience members, then clap loudly, stand up, hoot and holler. Repeat.
Oh, right, I was talking about how to make my cocktail.
Here's that recipe.
The Diva (Pomegranate Martini)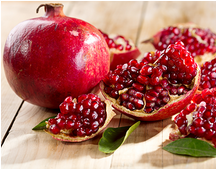 1 1/2-2 oz bourbon
1 1/2-2 oz pomegranate liqueur
1/2 oz simple syrup
1/2 oz triple sec (or Grand Marnier, if you want to kick it up a notch)
Juice from 1/4-1/2 lemon
Pomegranate seeds or lemon twist (for garnish)
Add some ice and water to chill your martini glass, then toss a handful of cubes into your shaker. Shake all the ingredients together (in quantities to suit your taste) and then pour a bit into your chilled glass. How does it taste? Hopefully all is sublime, but if not just futz with some of the ingredients to get the right blend for your palate. On occasion I've added a soupçon of agave nectar, which provides a touch of body to the drink. Pomegranate juice may be substituted for the liqueur, if you prefer, for a less boozy cocktail.
This is among my favorite martinis, and if you are not a bourbon drinker vodka also works; that's how I prepare it for my non-whisk(e)y drinking hubby. In fact, my original recipe used vodka, which has milder flavors and finishes cleaner on the palate. In contrast, bourbon adds complexity and richness; it's my regular base though I am somewhat more inclined to the vodka version when temperatures are warmer. Up to you!
Don't forget to garnish the drink. A lemon twist is lovely, but the pomegranate seeds are fun. Even though they sink to the bottom.
Here's to a happy, healthy holiday season!