Pomegranate, Avocado, and Fennel Salad (Recipe)
Tuesday, January 5, 2016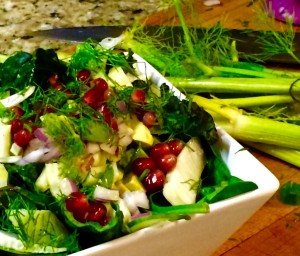 I hope you enjoyed following my Healthy Holidays series in December, but now's the time for new recipes. Much of my work this month will be on my books, so I'm not certain how often I'll be blogging. Please do remember you can always search my food porn gallery for inspiration, or my recipe list. And don't forget to pick up a copy of Superfoods at a newsstand or supermarket near you this Friday, January 8. This "bookazine" discusses the nutrition and sustainability properties of 91 different foods (chocolate included) and includes 5 of my favorite recipes to inspire you to live your healthiest life, deliciously.
Today I provide little more than a photo and a few links on this busy back-to-work week. You already know I'm crazy about pomegranates, and I show you how to get at the seeds in this quick video. This salad tops greens of your choosing—kale, arugula, spinach, mesclun, whatever—with thinly sliced fennel and those gorgeous ruby-red seeds. Dice on some creamy avocado and red onion, and don't toss the fennel fronds: they're pretty, and perfectly edible. Oil and vinegar work just fine as a dressing, or you can whisk up a simple pomegranate vinaigrette if you want to get fancy.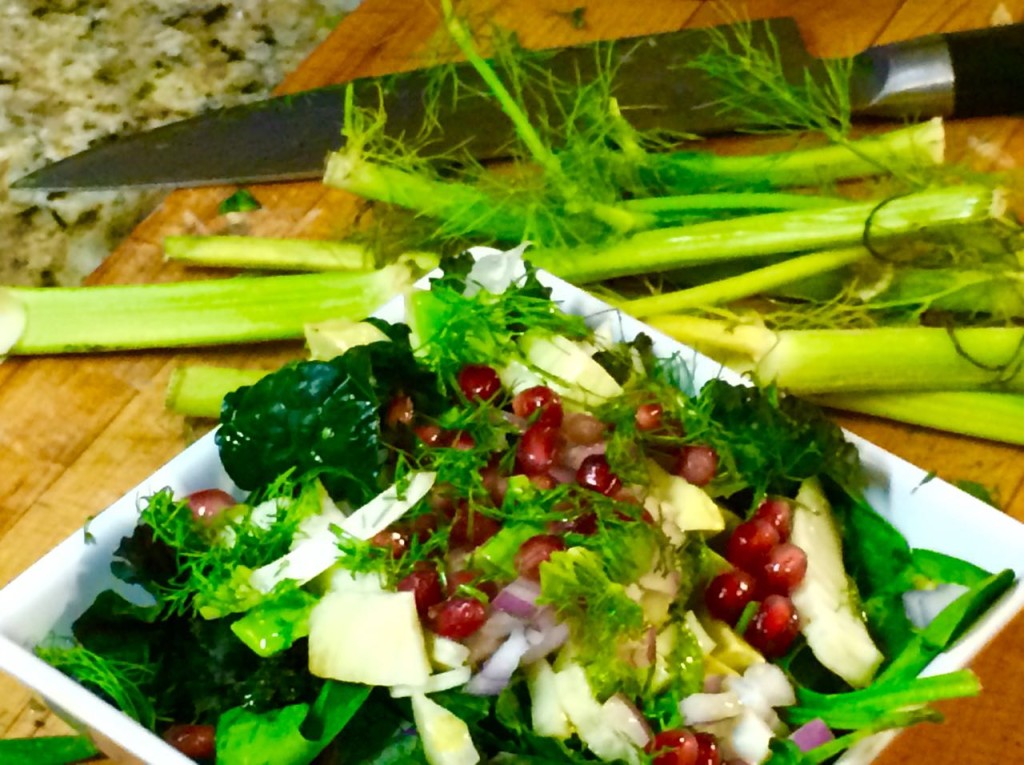 And why not turn my pictured side salad into a tasty main course? A "big salad for supper" plays a starring role in my diet, and it's especially welcomed post holiday indulging. Just create the whole thing on a larger serving dish with lots more greens and add some beans or whole grains of your choosing—or both—and maybe some nuts or seeds. The first week of January is a perfect time to incorporate this healthy habit into your mealtime repertoire.
Here's to a deliciously healthy new year!