Where Are the Seeds? A Pomegranate Public Service Announcement (How-To Video)
Tuesday, December 24, 2013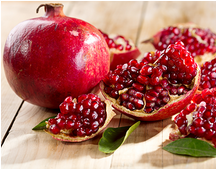 With its covertly packaged ruby red seeds that yield a surprising crunch, a burst of sweet-tart juice dancing on your tongue, Punica granatum is a fruit unlike any other. It's been cultivated since ancient times, a favorite in both Greece and Egypt, and is used in many different cuisines. It also has spiritual symbolism in numerous religions thus finds a special place on holiday tables around the world.Despite this unique prominence and impressive reputation, many haven't the slightest clue how to approach a pomegranate. Like other plant foods less familar to American audiences, most eye it dubiously, perhaps remembering a previous unfortunate encounter,and opt instead for the pre-packaged seeds. In today's blog post, I show you how to take charge of your pomegranate with two simple methods to easily extract the luscious seeds inside. In about nine minutes, you'll learn how to successfully wrangle a pomegranate for your next meal. (Or party trick).
Not sure how to feature the gorgeous pomegranate seeds you worked so hard to extricate? I mainly use them in salads, like this spinach salad with pomegranate,  pepitas, and pomegranate vinaigrette or a kale salad with pomegranate, walnuts, and pears. I've been meaning to make vegetarian ash-e anar, a pomegranate seed flecked Persian soup made with the juice. I often just eat them out of a bowl, as in this video, for a snack or dessert. Last, but certainly not least, they make a great garnish in cocktails like a pomegranate champagne sparkler, The Diva,  or even a pomegranate margarita. (All of these cocktails use pomegranate liqueur and/or pomegranate juice.)
However you enjoy this beautiful red fruit, congratulations on mastering the pomegranate.
Thanks for watching!
—
This public service announcement was brought to you by Dr. P.K. Newby, whose sole mission is to encourage readers to live deliciously through plant-based diets that promote  health and protect the planet. She receives no remuneration from the pomegranate people but checks are welcomed.