Kale and Roasted Brussels Sprouts Salad with Almonds
Tuesday, December 13, 2011
Healthy Holidays Begin with Vegetables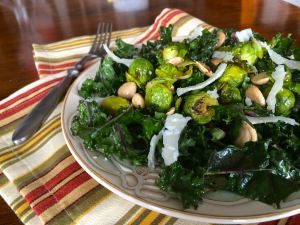 As we head toward the holidays, I'll write a few posts on salads and vegetables to encourage you to keep these foods as a regular part of your diet. Remember that vegetables are the most nutrient dense foods out there, and the more you consume, the better. They provide a vast array of vitamins, minerals, and phytonutrients. Eating a colorful and diverse assortment is as beautiful as it is nutritious, and festive vegetable dishes make a gorgeous addition to a holiday table. They also impart balance to otherwise heavy meals, providing fiber and water that help you feel full on fewer calories.
Therefore, on those occasions that you are eating at home or in your workplace cafeteria in the coming weeks, you might consider consuming a salad as a way to keep yourself in energy balance throughout the season. Even if you're not quite ready to eat just a big salad for supper, ingesting a small one before dinner with a glass of water, and taking your time eating it, will help to decrease the calories you eat during the main course. And dessert, come to think of it, which is one thing that most of eat a lot more of during the holidays. Hey, maybe you'll even be so full by that point that you won't even want dessert, though I fear I'm skating on some thin ice here and don't want to lose you. I mean, it's not like I'm saying you should set out a salad for Santa rather than a plate of cookies.
I don't think I'm saying that. I'm pretty sure I'm not saying that.
But, you know, if you really want to, I won't stand in your way.
Vegetable Inspiration from Bon Appétit
Do you remember the massive amount of produce I bought the last day of the Copley Square farmers' market before Thanksgiving, including Brussels sprouts (below)? For the most part, I had no trouble whatsoever getting through everything, as the squashes held up quite well on the countertop and the apples remain crisp in the refrigerator. Even the mushrooms survived nicely in their paper bags, creating a savory wild mushroom soup redolent of sherry and thyme that is currently simmering on the stovetop. Yes, indeed, lots of autumn cooking happened happened in my humble kitchen, and it's not done yet.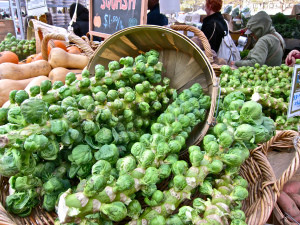 As I slowly progressed through the various soups, tarts, risottos, and salads in my repertoire (check out my recipes page here), I also looked to my favorite sources of inspiration for new ideas. Bon Appétit's November issue happily delivered, and I spent one recent Friday evening making three unique vegetable salads and side dishes: kale and Brussels sprouts salad with a dijon vinaigrette; roasted butternut squash with toasted pumpkin seeds and reduced balsamic vinegar; and crispy cauliflower with capers and raisins. I also toasted up some kale leaves for a crispy snack and siphoned some of the roasted cauliflower to make a divine soup. All in all, a productive, creative, and enjoyable evening.
You can't possibly be surprised that my idea of a fun Friday night is cooking, can you?
Kale and Brussels Sprouts Salad: Who Knew?
Have you ever eaten kale, the headless crucifer? If you haven't, or if you have and hated it, I beg you to keep reading, because I've had nothing short of a revelation, and following is my kale tale.
It was an article in the October 2009 Bon Appétit by Molly Wizenberg that first got me thinking about this hearty, fibrous vegetable, since I did not grow up eating it. Certainly what little I'd experienced as an adult was limited to soups, braising, and sautéeing.
Well, you can imagine my skepticism when finding a recipe for kale and Brussels sprouts salad last month. Cooked kale was one thing, but raw (I scoffed)? Who could possibly like this? Yet, I had a full bag of kale in my refrigerator from the market, so I pushed negativity aside gave it a shot. It did also call for Brussels sprouts, toasted almonds, pecorino, and a lively mustard vinaigrette, after all. How bad could it be? Plus, kale is among the most nutritious veggies out there. Like Brussels sprouts, kale is a cruciferous vegetable and has been associated with decreased blood cholesterol and risk of some cancers due to its high nutrient content including vitamins A, C, and K, as well as bioactive components like flavonoids and glucosinolates. It's also a reasonable source of calcium. The nuts and olive oil are great sources of healthy monounsaturated fats; almonds are also a rich source of minerals and fiber that also have been shown to lower cholesterol and risk of heart disease. This salad is nothing short of a nutritional powerhouse.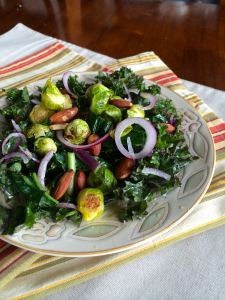 I loved this salad so much that I ditched using the kale in a soup as planned and made it three times in as many weeks. I had thought it would be bitter because of the raw kale but the balance of ingredients and flavors is nothing short of wondrous. It will no doubt become one of my regular autumn salads. I'll probably start getting creative by adding legumes or other protein—garbanzos? white beans? grilled tofu? salmon?—to turn it into a stand-alone "big salad" main course. I did use