Healthy Holidays: Oysters with Spicy-Sweet Mignonette (Recipe)
Thursday, December 3, 2015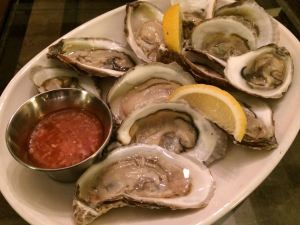 Welcome to Day 7 of my "Healthy Holidays" series!
So far I've featured cauliflower soup, roasted butternut squash and cranberry salad, Brussels sprouts with caramelized onions, peanut butter balls, stuffed portobellos, and—everyone's favorite—pumpkin whoopie pies with maple buttercream. Today's the day for seafood, for those of you planning on cooking up a "Feast of the Seven Fishes". And remember, friends, it's never too late to learn to love seafood. Just ask my now oyster-shooting husband.
Whether you're planning to gorge yourself on fish come Christmas Eve or not, raw oysters are particularly wonderful during the holidays given their nutrient-packed deliciousness. And sure, cocktail sauce and accoutrement suffice, but my spicy-sweet mignonette is the perfect complement—and doesn't drown this sweet little bivalve in sauce. It's a perfect day to give oysters a shoutout, too, given one of my guests last night at Harvard was Chris Sherman, President of Island Creek Oysters and chair of its wonderful foundation.
Click here to get the recipe (so easy!) and learn more about why I'm so in love with oysters.