Sizzling Fish Fajitas with Mango Salsa: Colorful and Delicious
Wednesday, May 28, 2014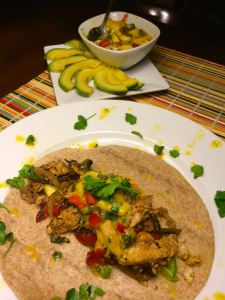 Despite the long list of things I need to write (don't even get me started), I often end up blogging about impromptu weeknight meals inspired by fresh seasonal ingredients—or whatever's hanging around my fridge. In this instance, I had some leftover mango salsa from last week's crab cakes (speaking of things on the list of "need to write") that I wanted to feature in a different dish.
Mango salsa is sensational with soft lobster tacos or atop a simple piece of seared fish, but it had been some time since I'd made fajitas. Enter today's dinner: sizzling fish fajitas with mango salsa, an amazing combination of meaty tilapia and the traditional mélange of peppers and onions stuffed into a warm whole wheat tortilla with sliced avocado.
Because I've written about fajitas before, today's post is mainly cooking photos. Fajitas are easy to make, since you mainly sauté vegetables and whatever protein you're using, but the marinade is the key ingredient that imparts the flavor you expect from this Mexican favorite; click here for more details. One of my Facebook fans claims this is one of her go-to recipes of mine. I hope you enjoy this dish as much as she does!
Fish Fajitas
1. Marinate veggies and fish for about 30-45 minutes, tossing every 10 minutes or so, and make the mango salsa as shown here and slice avocado while things are happening.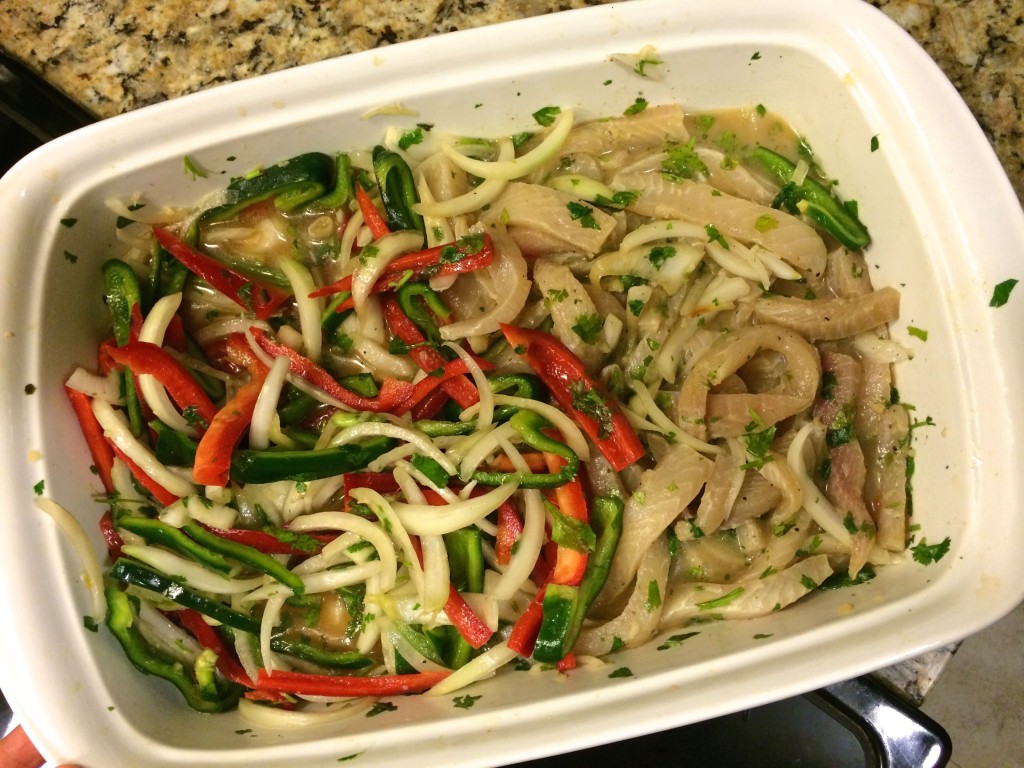 2. Heat a pan with a little vegetable oil and sauté the veggies first, then remove and do the fish in the same pan.(Note: The fish cooks more quickly.) Next time I'll keep the fish whole and cut into strips afterward, since many of the pieces flaked off during cooking. Still delicious, though.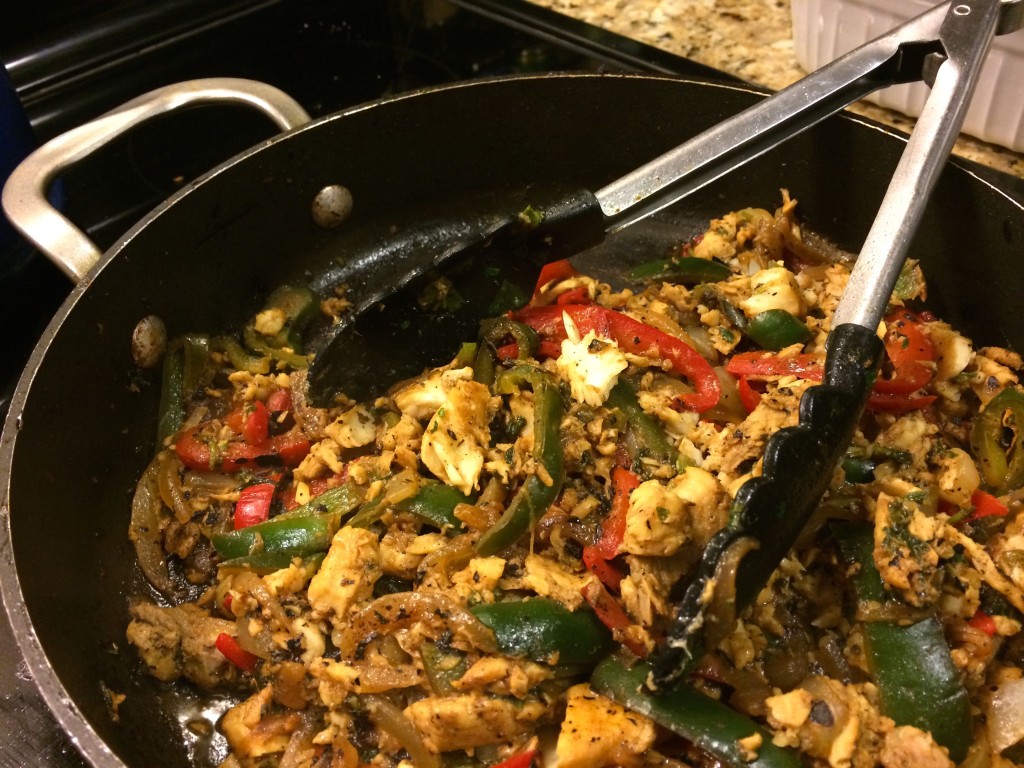 3. Serve fajita mixture on a large platter, and allow people to stuff and garnish as desired. (Chopped cilantro and soft tortillas not pictured.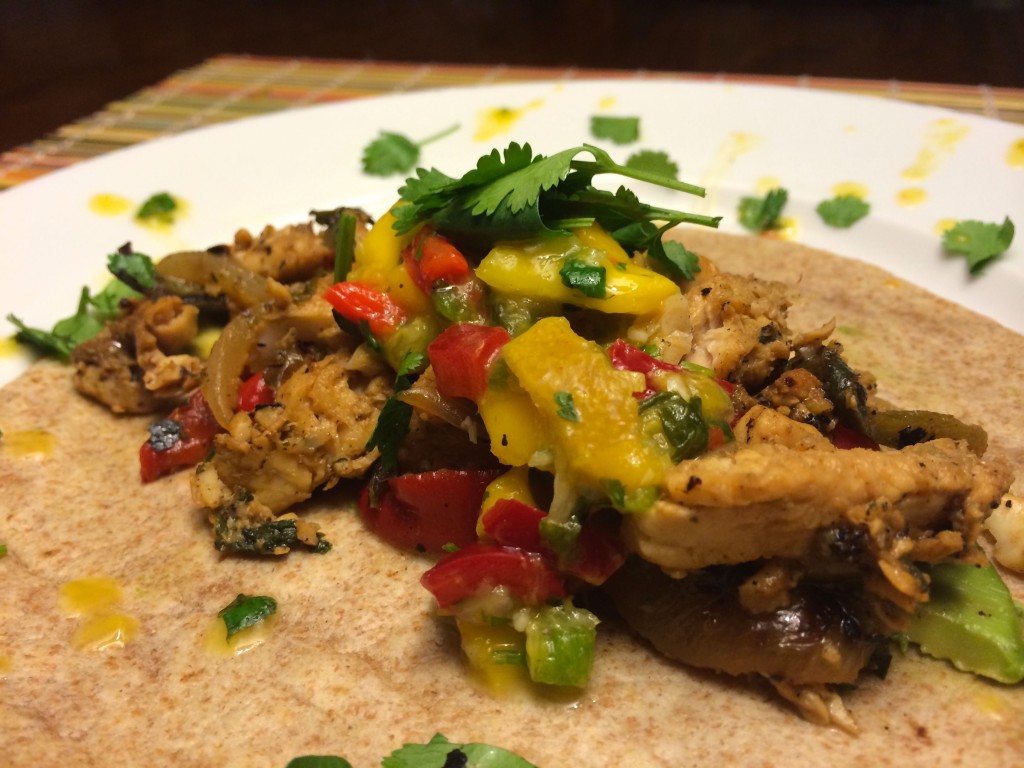 Health & Sustainability Notes on Farmed Tilapia: What's the Deal?
Tilapia is terrific, budget-friendly, and sure to please kids and "I don't like fish" adults alike because it is mildly flavored and looks and tastes almost like—you guessed it—chicken. It is, in fact, known in the food industry as "aquatic chicken." Perhaps that's why it is the fourth most consumed fish in the US, according to the Monterey Bay Aquarium. Tilapia farmed in the US is ranked as a "best choice" when it comes to the environment especially when grown in closed recirculating systems.
Think all "farmed fish" are bad? Think again. The sustainability of fish populations and the environmental impact of seafood consumption are related to a wide variety of factors, and wild-caught fish—including local species—have their own set of problems; ecologically sound aquaculture is likely part of the solution to feeding a growing population, as discussed in this brief Worldwatch Institute report and this video. Tilapia does not have the same health benefits as fattier fish, which have far more beneficial omega-3 fatty acids, but it is a lean protein low in calories with a smaller carbon footprint than terrestrial foods like poultry, beef, and lamb.
Of course, this meal could be easily reproduced using tofu or your favorite meat substitute, which would also be splendid. After all, the entire inspiration for this post was the salsa! But this particular combination of tilapia, onions, and peppers worked wonderfully, so give it a shot. Even if you think you don't like fish.
And enjoy!