Rockin' Lobster Roll: My 300th Blog Post (Video Recipe)
Wednesday, April 23, 2014
Welcome! It's been almost three years since I began blogging and this is my 300th article. It's also the one year anniversary of the Boston Marathon bombing, which I ran and finished last year. I celebrate food, life, and you with today's video recipe dedicated to one of my favorite things, the lobster roll. Thanks for reading and watching (and if you want a text-only recipe click here)!
* * * * *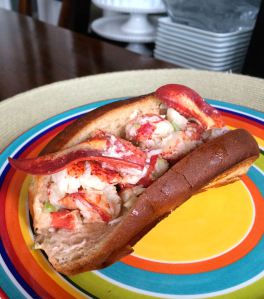 It's fitting, albeit somewhat coincidental, that my 300th blog post is dedicated to the lobster roll. That's because my very first piece actually addressed the same subject just about this time of year in 2011 when I hosted a festive luncheon featuring lobster rolls paired with a strawberry, goat cheese, and sunflower seed salad and the season's first rosé. I love lobster rolls, you see. Yet I am perpetually perplexed by why they so often suck, which I lament here. Though the classic lobster roll is spectacular all on its own, I've also created a scrumptious twist on the traditional with avocado and arugula micro greens. And here we are again today, with a video version for all of you visual learners. Or if you like the B-52s.
A turning point in my scientific career, 2011 was also the year I decided to pursue a new chapter dedicated to helping people translate scientifically-based principles of nutrition and sustainable eating to their plates in delectable ways on my blog and beyond. I've written widely about food and nutrition issues since then, whether with satire (e.g., eating local) or seriousness (e.g., GMOs, food technology). I've got my first book coming out with National Geographic this September, Foods for Health, and I'm currently working on my second, a cookbook with recipes and stories much in the style of this blog. Part of my mission is to challenge you to reconsider what you think you know about healthy eating and help you develop skills to identify accurate health information. But at the heart of it all is my passion for food, and I sincerely hope that my adoration of things delicious shines through everything I do.
So, without further adieu, I bring you today's video blog dedicated to one of my favorite things in the world, a glorious lobster roll. It's the perfect treat for this special occasion.
Thank you for reading and watching today, and over these past three years and three hundred blog posts. I am truly grateful.