And the Oscar Goes to … Lobster Risotto!
Friday, February 22, 2013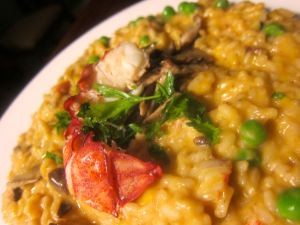 I make risotto a couple of times a year, for either a fancy occasion or when a craving arises. It's a fantastic dish, certainly, but I've never been able to find whole grain arborio rice that is not refined (white) and it's quite a starchy dish. I thusly wait until inspiration strikes, usually after stumbling across something spectacular at the farmers' market. Which is exactly how this dish came about when I found lobster (!) at my winter market last year. I first embarked on making lobster bisque, a soup that requires lobster stock. (Meeting the meat not required.) Well, we all know I make stock in large quantities to have leftovers, so I decided to put mine towards further extravagance in a lobster risotto with leeks, shiitake mushrooms, and English peas.
Today's post is dedicated to a colleague at Share it Fitness, Matt Paley, who asked me for a great lobster recipe for Valentine's Day. Alas, this piece wasn't yet written. Better late than never, though, and just in time for the Oscars in case you're looking for an extra-special dish that will wow your guests and treat yourself.
Lobster Risotto
Ingredients. Rice, lobster stock, white wine, lobster meat (including whole tails), shiitake mushrooms, leeks, shallots, peas, olive oil, cream, parmigiano reggiano cheese (freshly grated), parsley, salt, and pepper. (Wanna get crazy? Grab some truffles and truffle oil.)
Overview. Instructions for the "rice" part of the risotto are usually on the back of the package; follow those. Making risotto is generic: what differs between recipes is the specific vegetables, herbs, protein, and stock you'll use to flavor the rice. As long as you have enough liquids, time, and patience, cooking risotto is easy.
1. Sauté leeks and shallots in a risotto pan in 2 tbsp olive oil, until soft (medium-high heat, ~5 minutes). Season with salt and black pepper. When cooked, add1-2 cloves of crushed garlic, if desired, and stir until fragrant, ~45 seconds. Add rice and stir to coat, about 3 minutes. Raise the heat to high and deglaze the pan with 1/2 cup white wine, scraping up the bits from the bottom and stirring until wine is absorbed. While all of this is happening, heat up the stock.
2. Add heated stock to the rice/leek mixture, one cup at a time. Simmer over medium heat, allowing all the liquid to be absorbed before adding additional stock. This is the time-consuming part that takes between 30-60 minutes. There are variabilities in the rice that can impact cooking time. For this reason, keep more stock than called for on hand, as you can just throw it into the fridge if it's not needed or create a looser risotto, if you're into that. While rice is cooking—make sure you're stirring it fairly constantly—sauté the shiitake mushrooms in a bit of olive oil, seasoned lightly with salt and pepper. (Note: I've seen instructions that say 30 minutes and once had dinner guests waiting around while I yelled from the kitchen "It's almost done! It's almost done!" It wasn't. And, between stressing over the dish and chugging sipping my wine anxiously, by the time the dish was done, so was I. Very. True story.)
3. Prepare remaining ingredients, making sure to leave several large chunks of lobster whole for the top. It's fine to do this while the rice is cooking, by the way, just don't wait too long between stirs.
4. When the rice is finished cooking, gently fold in mushrooms, lobster, peas, cheese and a little cream. Note that other than to warm everything through you don't want to "cook" the dish: the lobster has already been steamed and the mushrooms sautéed, you are simply incorporating everything together. (Using defrosted frozen peas work beautifully in this dish, as I did, if you don't feel like dealing with fresh peas, as I didn't.)
5. Taste, adjust seasonings, and serve, garnishing with a good-looking piece of lobster and parsley sprig. If you want to take this meal over the top, garnish with shaved truffles and/or drizzle with truffle oil.
Definitely Oscar-worthy.