Green Goddess (The Dressing, Not Me)
Monday, February 16, 2015
Dreaming of a summer day? Let your inner goddess out to play! Creamy avocado and herbs create an sumptuous salad dressing or dip that makes your veggies sing!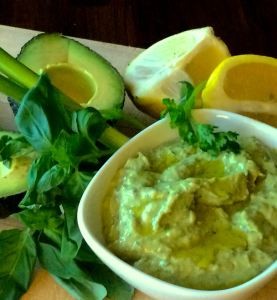 The alluring sounding "Green Goddess" is so called due to its pretty hue, as you might have guessed. Though actually the name came before the color, as the recipe was created based on a 1920s Broadway play of the same title. (Who knew?) And the dressing's origins go back even further, to the times of Louis XIII with its sauce au vert.
Trivia aside, this herbaceous treat remains a popular salad accoutrement here in the US. I love making it in the summer, when it features fresh herbs from the local farmers market. But let's face it: this dressing is just too darn good to eat only in August, and its other main ingredients—avocado, lemon, olive oil—aren't local, anyway. So taste wins out with today's post, a promise of warmer days to come.
If you've never made Green Goddess at home, you may be surprised to see anchovies in the recipe. As with Caesar dressing, the flavor is not really noticeable unless you choose to add more or layer some on top of the salad. But anchovies are absolutely the je ne sais quoi in the dressing, adding complexity and depth to what is otherwise a simple creamy herb and avocado dressing. Not that there's anything wrong with that, though, so if you're sure you don't want anchovies, or simply prefer a vegetarian version, just leave them out.
But if you are feeling adventurous, and want to give the dressing a fabulous umami flavor boost (not to mention a nice dose of omega-3 fatty acids), keep in those little fishies and give this dreaming-of-summer recipe a try.
Green Goddess Dressing
Ingredients & Instructions
1 large, ripe avocado
2 tablespoons olive oil
1/2 cup scallions, rough chop, both white and green parts
1/4 cup fresh basil, loosely packed
1/4 cup parsley, chopped
1/8 cup chives, chopped
2 large cloves garlic, smashed and quartered
Juice from 1 lemon (about 1-2 tablespoons)
2-3 oil-packed anchovy fillets
1 teaspoon anchovy oil (optional—and only if you love anchovies)
1/3 cup mayonnaise
1/3 cup sour cream
Salt and freshly ground pepper, to taste
Blend everything but the dairy together in a food processor until homogeneous and smooth. Pulse in the sour cream and mayonnaise until combined. Taste, season with salt and pepper, and adjust ingredients as desired. (I often add more lemon juice and/or olive oil.)
Note. If you'd like to lighten the calorie load a bit, you can sub in low-fat mayo and/or sour cream, or even nonfat yogurt. Even so, there are about 350 calories in one large avocado—albeit loaded in heart healthy monounsaturated fatty acids, vitamins, fiber, and minerals. For these reasons, Green Goddess dressing is obviously a lot more energy dense than basic oil and vinegar, which is my everyday salad accompaniment. So whatever dairy you include in your version, definitely file this recipe under "moderation," just as you would with other indulgent dressings (like, say, blue cheese).
But wow, is this dressing ever good! Crazy good!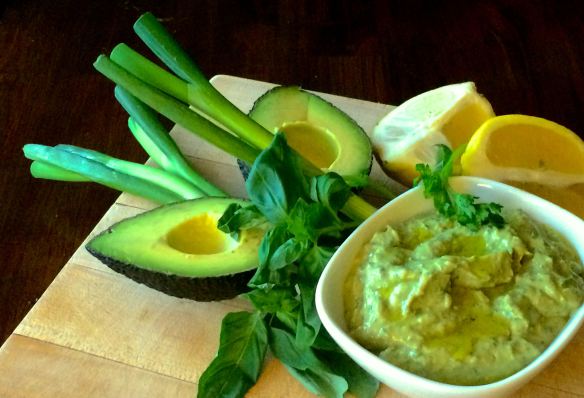 And calling it a "dressing" really sells it short, since it makes a sensational dip for fresh veggies or whole wheat pita chips or a ravishing spread for all kinds of mouth-watering dishes. Just you wait.
So won't you join me in celebrating your inner goddess?
Every once in a while she definitely deserves a chance to come out and play.