Heavenly Sweet Potato Hash
Monday, February 9, 2015
Remember those sweet potatoes I roasted up all nice a few weeks back? I promised they were the beginning of many beautiful things, like my sherried sweet potato and crab bisque. Today's recipe tosses them with a few spices and throws on a sunny-side up, crispy-edged fried egg: Brunch is served.
Or perhaps increase your portions a bit, throw on two eggs, and make it dinner.
Whenever you like to eat dishes like these, you'll love the combination of sweetly spiced sweet potatoes and crunchy peppers, a meal that is as colorful and nutritious as it is delicious.
Runny yolk optional.
Sweet Potato Hash
Ingredients
2 tablespoons olive oil
1/2 cup yellow onion, chopped
1/2 cup poblano pepper, chopped (or green bell)
1/2 cup red pepper, chopped
1/4 teaspoons salt
1/4 teaspoons black pepper, freshly ground
2 cloves garlic, minced
2 tablespoons parsley, rough chop
1 teaspoon sweet Hungarian paprika
1/4 teaspoon cumin
4 cups roasted sweet potatoes
1 teaspoon harissa (optional)
Pinch cayenne (optional)
Additional chopped parsley, for garnish
Instructions
Heat the olive oil over medium heat then add onions and peppers, season with salt and pepper, and sauté until cooked. Stir in garlic, parsley, paprika, and cumin until fragrant, about 1 minute, then mix in sweet potatoes and harissa (if using). Once potatoes are fully coated and heated through, taste and reseason as desired.
Especially delicious when served with a fried egg.
And a drizzle of extra virgin olive oil and scatter of fresh parsley are always welcomed, too.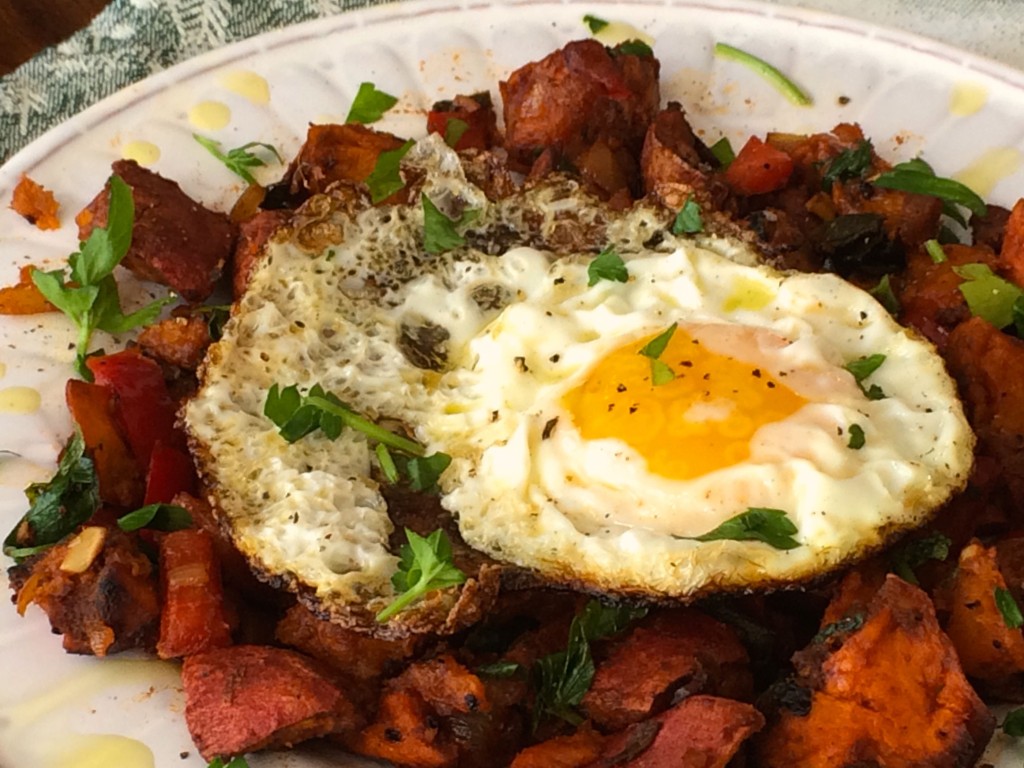 Hashes are made with all kinds of different spices to suit mood and palate. A very basic version of mine just includes veggies like these mixed with garlic, salt, pepper, and paprika. Or you can keep with Italian-American flavors like parsley, oregano, basil, and the like. Today I'm featuring the warm spices that I love and add a little
pknewby.com/2015/01/15/bring-on-the-heat-part-2-harissa/" target="_blank">harissa at the end for extra oomph. It's like a sweet potato version of shakshuka. (Of sorts.) You don't really need the harissa, and I've made this dish plenty of times without it. But if you are into it and have it on hand, go ahead and try it.
I think you'll be happy you did.