Avocado Crostini with Parsley-Pistachio Pesto and Arugula
Thursday, June 27, 2013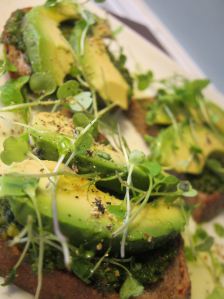 It's important to think out of the box when it comes to crostini. After all, with so many wonderful vegetables from which to choose, why should tomatoes have all the fun?
Today's recipe was inspired mainly by having some extra pesto hanging around the fridge after using it in a fabulous pasta dish with garbanzos and blistered cherry tomatoes. And, speaking of cooking out of the box (go with it), remember that this particular pesto featured parsley and pistachios rather than the traditional basil and pine nuts. That recipe rocked my world, which is why I was excited to have it star in today's crostini. Not to brag, but the combination of creamy avocado, herbaceous pesto, bright arugula, toasty bread, and fruity olive oil was sensational.
As there are just a few elements in crostini, you'll want to make sure each is high-quality. While I do think there is a time and place for a gorgeous French baguette, the big flavors of this pesto could stand up to a heartier, more nutritious bread. I selected a gorgeous whole grain loaf that I sliced, brushed with olive oil, and toasted. (For more details, check out my recipe for radish crositini.)
I next spread the (slightly cooled) toast with pesto, sliced on some avocado, and sprinkled the crostini with arugula microgreens; non-arugula microgreens could be substituted if you prefer. Regular-sized arugula could be used, too, though in that case I'd layer pesto-arugula-avocado rather than pesto-avocado-arugula.
Not that I'm picky, or anything.
For a final touch of deliciousness, drizzle on a bit of olive oil and give a crack of black pepper. You could even toss on a few pistachios if you were feeling it, for fun.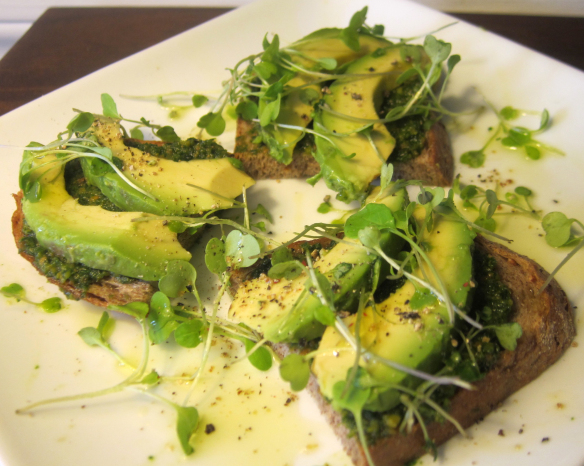 This crostini would be wonderful paired with a big salad for a perfect summer meal; that is, in fact, exactly how I consumed them. They would make a terrific addition to a dinner party, an elegant variation on the well-known tomato crostini appetizer. Or how about as a lovely light lunch? No matter the how and when , if you love pesto and avocado as much as I do, you will adore this recipe.
Trust me on that.
And if you're wondering about the fabulous nutrition and health effects of the glorious avocado, or how to make heart-healthy guacamole in five minutes, do check out the video on my YouTube channel here or my blog post here.
And thanks for reading!