Cocktails Get Local: Shaking Up a Watermelon Margarita (Video)
Thursday, August 29, 2013
Bring summer watermelon into your cocktails for an out-of-this-world margarita that is dangerously delicious.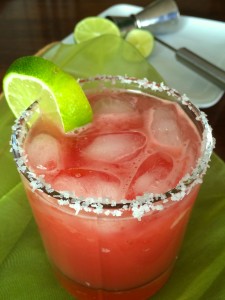 Nothing beats the cool crunch of biting into a juicy watermelon during the dog days of summer, its pink juices running down the sides of your mouth.
Though shaking up puréed watermelon along with tequila, fresh citrus, and a few other ingredients comes awfully close.
Here's a handy five-minute how-to video for you, just in time for the long weekend.
In my opinion, a watermelon margarita on the rocks is quite possibly the perfect cocktail for a Mexican-themed summer party or a holiday weekend. (Or Cinco de Mayo. obviously.)
Or when you just need a little celebration all on your own.
Whichever.
PS. That big pot behind me? Yeah, that's a tortilla soup, one of my favorite summer suppers made from freshly shucked corn. The recipe, with a goodly amount of detail and cooking photos, is here. Just in case you were wondering. Good match for the margarita, too!
—
Learn more about nutrition scientist and food personality Dr. P.K. Newby, and check out her newest book. You can also follow her on FB, where she is much more active than on this blog. Or, click here if you just want to ogle food porn featuring plant-based, globally-inspired cuisine.