Strawberry Margarita Monday
Tuesday, June 26, 2012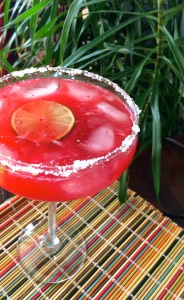 Sure, my regular readers won't catch this until Tuesday or Wednesday. Or maybe not at all, truth be told. (Damn you!) But let's not start this otherwise joyous post on a sour note now, shall we? Why joyous, you ask? Well, if you've been following my recent string of strawberry-related articles, you know that I've been using the summer strawberry with its all-too-short-season in several drinks and dishes over the past few days. The results have been very tasty indeed and include a strawberry mojito, a spinach, strawberry, and sunflower seed salad, and my favorite summertime (nonalcoholic) beverage, berry iced tea. (More here.) My most recent concoction, my take on a strawberry margarita, developed after a particular grueling Monday. I stayed pretty close to the standard recipe: a margarita is, after all, a margarita. What made the big difference, however, was the summertime strawberries and other freshly made ingredients.
Strawberry Margarita
Ingredients
2 ounces tequila (use a high-quality brand for best results)
1/2 ounces Citrónge
1/2 ounces triple sec
1-2 ounces simple syrup
Juice from two freshly squeezed limes, ~2-3 tbsp
10-12 strawberries
Mash or purée the berries and set them aside. If you mash them as I did the first time, you'll have more chunks, making it a touch hard to drink; this is why I puréed them the second time. Either works. To an ice-filled cocktail shaker, add all ingredients, shake, and pour into a glass. Start with the smaller amount of simple syrup, as it depends on how sweet the berries are, how much juice your limes exuded, and how strong you like your margaritas. You can always add more berries, syrup, and citrus and reshake to obtain the balance you find most pleasing to your palate. (As I did the first time I mixed this drink; more on this below.)
Mixologist's Notes
Most importantly, this drink was totally, totally awesome. Absolutely the best strawberry margarita I've ever tasted. (She says, in the middle of her third second.) So why is it so awesome, in all seriousness? A few reasons. Of course, I'd like to believe that my particular blend of ingredients and their proportions help, sure. For starters, don't use cheap tequila and include both citrónge and triple sec; these things make a difference. Also, just like when things you cook are better from scratch, so, too it is with ravishing cocktails. Yes, the farm-fresh strawberries, help, but it doesn't end there. I also used homemade simple syrup and fresh lime juice. As I mentioned in my blackberry margarini post a few months back, I don't do store-bought margarita mix that comes in scary bright-green colors. Sure, you can use such products, but you probably won't take a sip and say "This is the best strawberry margarita I've ever had!" Which is exactly what it is / was.*
And, yes, I did really say that. And, no, I don't often mix up margaritas on a weeknight. (Wine is my go-to alcoholic beverage, in case you were wondering.) Yet I draw inspiration from seasonal produce and let the creative juices, er, flow where they will. Which, in this case, led to the rarely seen (strawberry) margarita Monday.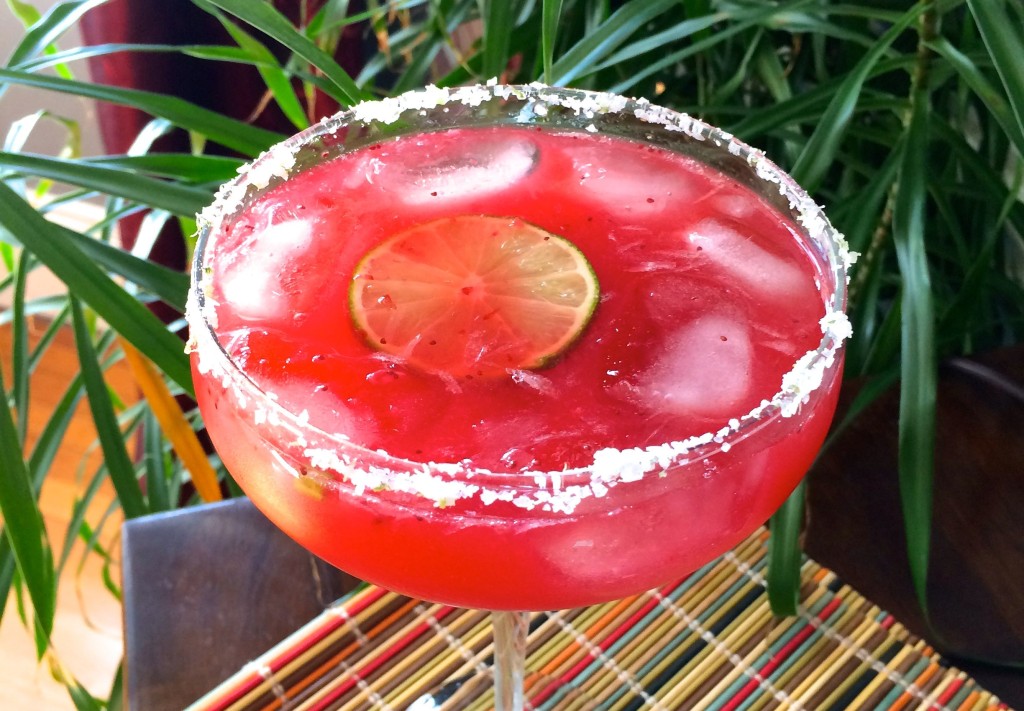 Now that's a Monday worth waking up for!
—
* I did in fact make this margarita for the first time on a Monday, for all of you who end up stumbling across my blog looking for a strawberry margarita recipe on a non-Monday. Not that such details matter. However, to ensure the proportions were correct, as I futzed with it a bit after making it for the first time yesterday, I made myself another tonight—Tuesday— to double-check the recipe. (It was a hard, yes, but I am committed to making whatever sacrifices are needed to bring you delectable food and libation creations.) Upon successful reproduction of results, I rushed quickly back to my computer to write down the ingredients and this quick blog post, freshly mixed margarita in hand.
Not that any of this is at all interesting.