Farmers' Market Inspired Strawberry Mojito
Friday, June 22, 2012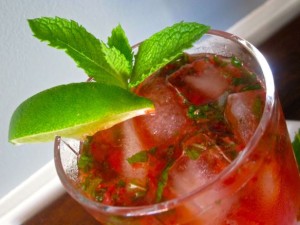 After a long work week and writing about my favorite non-alcoholic summer beverage earlier this afternoon, cocktail hour dawned and I was just about to make one of my favorite summer cocktails, strawberry bourbon lemonade. But why let bourbon have all the fun? I asked myself. (No, seriously. I did say that.) Plus, I've been dying to use St. Germain in some of my libation creations, that famous French elderflower liqueur that often makes appearances in some very tasty drinks I've sampled over the years. I bought myself a bottle last month and today accepted the challenge of incorporating it into a new(by) cocktail.
The result? My take on the strawberry mojito, made of course with farmers'-market-fresh strawberries and mint. I also scoped out a few potential recipes on the web; my version was inspired by those I saw here and here.
Here's the recipe.
Ingredients
2 ounces rum (I used light)
1/2-1 ounces St. Germain
1/2-1 ounces simple syrup
Juice from 1 lime
7-8 strawberries
Several mint leaves (to taste)
Directions
Muddle the strawberries and mint together in whatever way you can, either with a mortar and pestle or by finely chopping or mashing with a knife. You could even give it a quick blend, I suppose. To a cocktail shaker filled with ice add all of the ingredients together, shake, and pour into a rocks glass. Garnish with lime, mint, or strawberries, if you like.
You may note that this cocktail looks remarkably similar to my beloved strawberry bourbon lemonade. How could it not? In both drinks, strawberries are the dominant flavor that also lend their pinkish hue. Also, both are awesome. But don't let looks fool you. This is a very different drink and one that mojito lovers will enjoy in the warm summer months.
Or, you know, whenever.
—
Like this? More strawberry concoctions are here…