Easy Vietnamese Pickled Vegetables (Do Chua): Essential Bành Mi Ingredient (Recipe)
Wednesday, October 10, 2018
Quick. Easy. Colorful. Tasty. And with a kick (if you're into that kind of thing). You need some pickled vegetables in your life.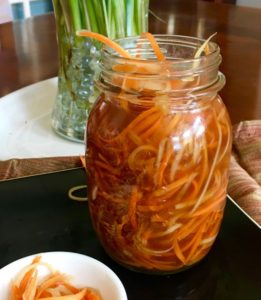 This post is long-past overdue, as I first made my scrumptious Spicy Bánh Mì with Sesame-Soy Tofu, Pickled Seasonal Vegetables, and Miso Mayo at last year's Lousiana Food Prize Festival in Shreveport. It was such a hit—everyone thought it was chicken, in a good way—that's it's been my go-to cooking demo. I whipped it up at the Boston Local Food Festival last month and this weekend I'll be making it again at the WBGH Food & Wine Festival. Hey, when something works, it works. Plus, it allows me to showcase my "Healthy Hedonism" philosophy on eating, which means that pleasure is always at the center of a plate that celebrates plant-based, globally inspired cuisine with seasonal ingredients. And this French-Vietnamese sandwich with its big, fresh flavors—and a kick of heat from Thai chilis and sriracha—definitely fits the bill.
The first part of putting this sandwich together is making the pickled vegetables. Easy as can be, and they last for months in the fridge. Tasty, pretty, and a zing of heat makes the perfect pickle accoutrement, which can be used on other things, too; just use your imagination. And no doubt you'll also just pick on them straight out of the jar on occasion as they sit on your refrigerator shelves looking so pretty.
Pickled Vegetables (Do Chua)
Ingredients
2 large carrots, julienned (about 2 cups)
1 medium daikon radish, julienned (about 1 cup)
Red or green thai chilis, to taste
1/3 cup palm sugar*
1 tablespoon salt
1 cup water
1/2 cup rice wine vinegar
Couple of dashes fish sauce (optional)
Directions
Julienne carrots and daikon carrots (leave the peels on for extra fiber and nutrition and less food waste) and mix together with sugar and salt in a large bowl. Use your fingers to massage the salt and sugar into vegetables until dissolved. (It's fun!) Add water and rice vinegar, stir, and pack the mixture into a quart-sized mason jar. Pickles can be used immediately, in a pinch, but for best results, refrigerate overnight and up to 1 week before using.
*choose sustainably produced palm sugar, which protects forests, biodiversity, farmworkers, and the planet.
Stay tuned for the next recipes coming very soon: miso mayo and sesame-soy tofu…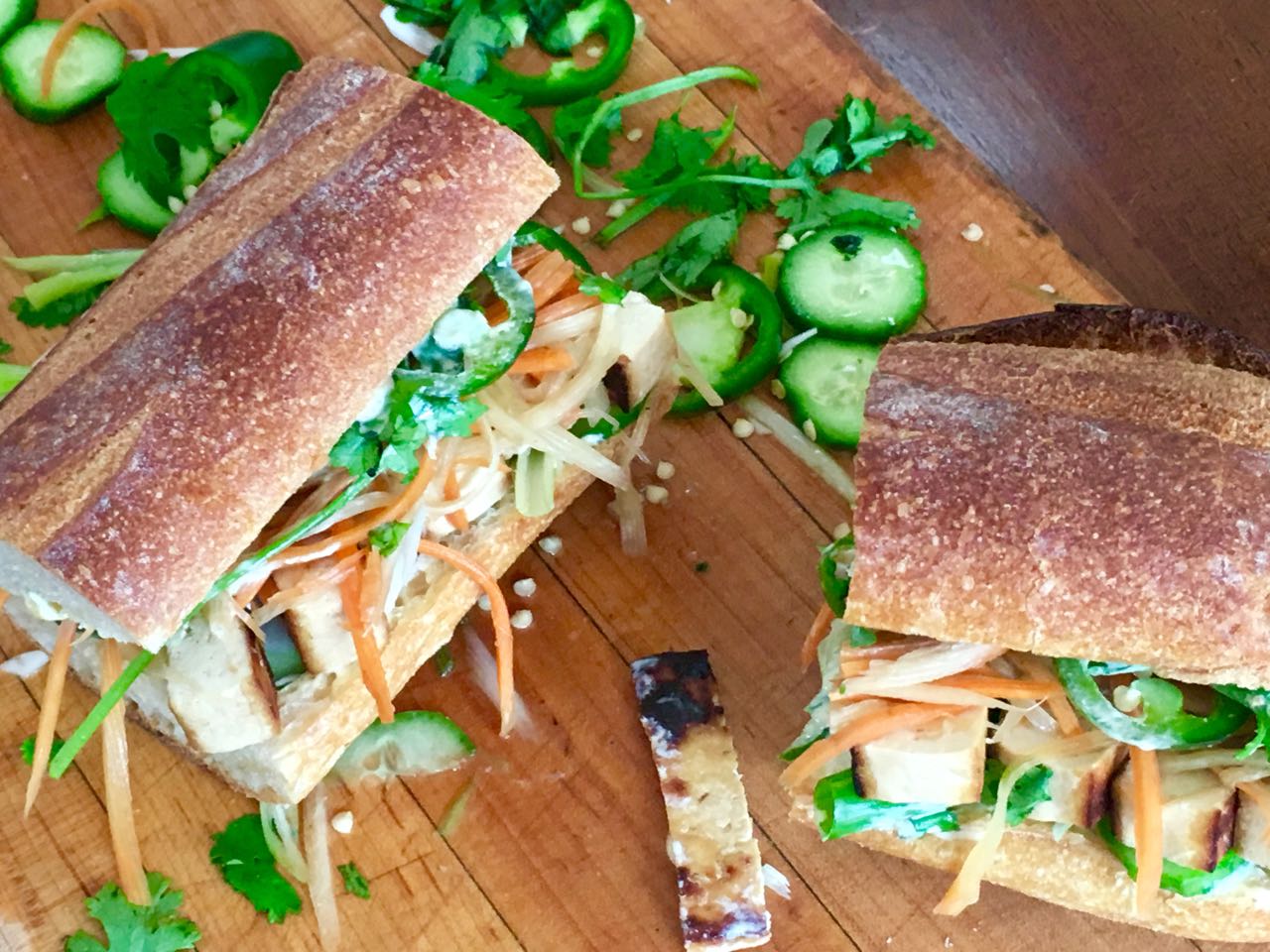 —
Learn more about nutrition scientist and food personality Dr. P.K. Newby here, and check out her new book "Food & Nutrition: What Everyone Needs to know". You can also follow her on FB, where she is much more active than on this blog. Or, click here if you just want to ogle food porn featuring plant-based, globally-inspired cuisine.