Five-Minute Porridge: Ditch the Sugar & Make it Your Own (Recipe)
Tuesday, April 3, 2018
Ditch the sugar and pack on the nutrients and flavor with stove-top porridge that comes together in five minutes.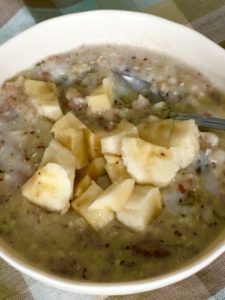 Why pay the expense of store-bought packaged oatmeal that packs on sugar, lacks fiber, and creates packaging waste? Head over to the bulk bins to grab some whole grain rolled oats and keep them on hand: they'll last for ages in your pantry, and have the same fiber and nutrients as steel-cut but take five minutes to cook, not thirty. Boost the nutrition and flavor by tossing in phytonutrient-packed hemp, flax, and chia seeds, and create toothsome texture with store-bought whole grain cereal nuggets. Add some plant-based milk for a bit more flavor and creaminess and you're good to go.
Welcome to my everyday breakfast.
Five-Minute Porridge
Ingredients
1/4 cup whole rolled oats (not quick cooking)
1/4 cup whole grain cereal (Ezekiel 4:9 or Kasha whole grain nuggets)
1 heaping teaspoon hemp seeds
1 heaping teaspoon flax seeds
1 heaping teaspoon chia seeds
3/4 to 1 cup water
2 tablespoons raisins (optional)
1 tablespoon non-dairy milk (soy, flax, almond, whatever you fancy!) (optional)
Instructions
Put all ingredients into a small pot over highest heat, beginning with the smaller amount of water. Stir and watch as mixture comes to a boil and becomes thick and creamy. Add more water for a thinner cereal, but note that it will also become thicker as it stands post-cooking. Turn down heat and continue simmering a few more minutes, and add non-dairy milk if you like. Remove from heat, pour into a bowl, and let sit a minute or two to thicken. Eat as is or top with your favorite fruit, berry, and/or nuts.

Perhaps most importantly, make this recipe your own! Anything works, really, and it's not exact. I don't ever measure ingredients, I'm just doing so here as a guideline for new cooks.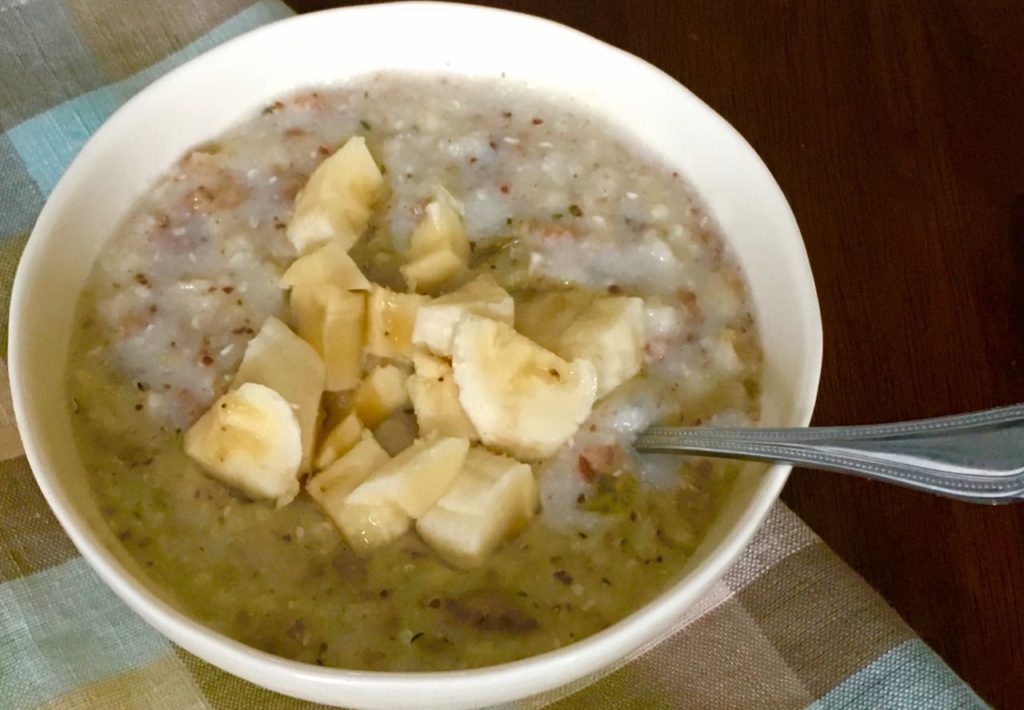 Learn more about the healthfulness of oats and watch a short cooking video
here for more oatmeal information and action.
So satisfying and delicious I sometimes even eat it for dinner. (True story.)
—
Learn more about food personality and health expert Dr. P.K. Newby here, or her experience as a nutrition scientist, professor, and consultant here. You can also follow her on FB here, where she is much more active than on this blog. Or, click here if you just want to ogle food porn featuring plant-based, globally inspired cooking.