Simple Mediterranean Farro Salad (Recipe)
Tuesday, May 31, 2016
This simple and satisfying Mediterranean-inspired chopped salad features farro (whole grain wheat), peppers, parsley, and pistachios. Nutritious and delicious!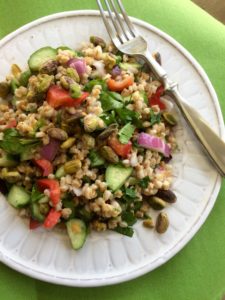 I love a good chopped salad, chock full of colorful vegetables, nuts, and beans. My usual mix stars chick peas—I love garbanzo beans–but I'll often turn to whatever good stuff I have lying around.
That's how today's recipe came about, which is a variation on tabbouleh. And it's super easy, especially when you start with leftover farro, or whatever other whole grain you've got hanging out in the fridge. You can cook up whatever you like expressly for this salad, of course, but your lunch will be even tastier if you only spend five minutes putting it together. Like all things I create, I make plenty for additional meals, and to inspire new dishes. This salad arose from exactly that practice: I had leftover farro from my Moroccan stew, which served multiple suppers; more was included in a gorgeous salad of mixed greens, orange, and avocado; some was tossed into the freezer (cooked whole grains freeze nicely!); and that same batch of farro is now featured in this salad. One big pot of cooked whole grains really does go a long way, happily.
There's not much of a recipe here, but the how-to is below for healthy inspiration.
Mediterranean Farro Salad
Salad. Start with about 4 cups of farro, or however much you want. Add to it a mixture of whatever vegetables and herbs you have on hand, chopped in bite-size chunks. I used red pepper, cucumber, red onion, and parsley, then tossed in some toasted pistachios for fun and crunch.
Dressing. Squeeze the juice from a half a lemon or so directly onto the mixture, and then drizzle with extra virgin olive oil. Season with sea salt and freshly ground black pepper, stir, and taste. Readjust seasonings as desired, to your liking.
Notes. Other Mediterranean-themed ingredients that play well with farro include avocado, olives, white beans, artichokes, sundried tomatoes, walnuts, and so forth. Just select a mixture of a few that you like. And do remember that a salad such as this is super healthy, but once you start throwing in high-energy items, whether nuts, avocado, olive oil, or cheese (feta would be terrific here, if you're into that kind of thing), you'll start adding up calories. And that's fine, as long as it's balanced with your other meals and your physical activity, but it's something to keep in mind.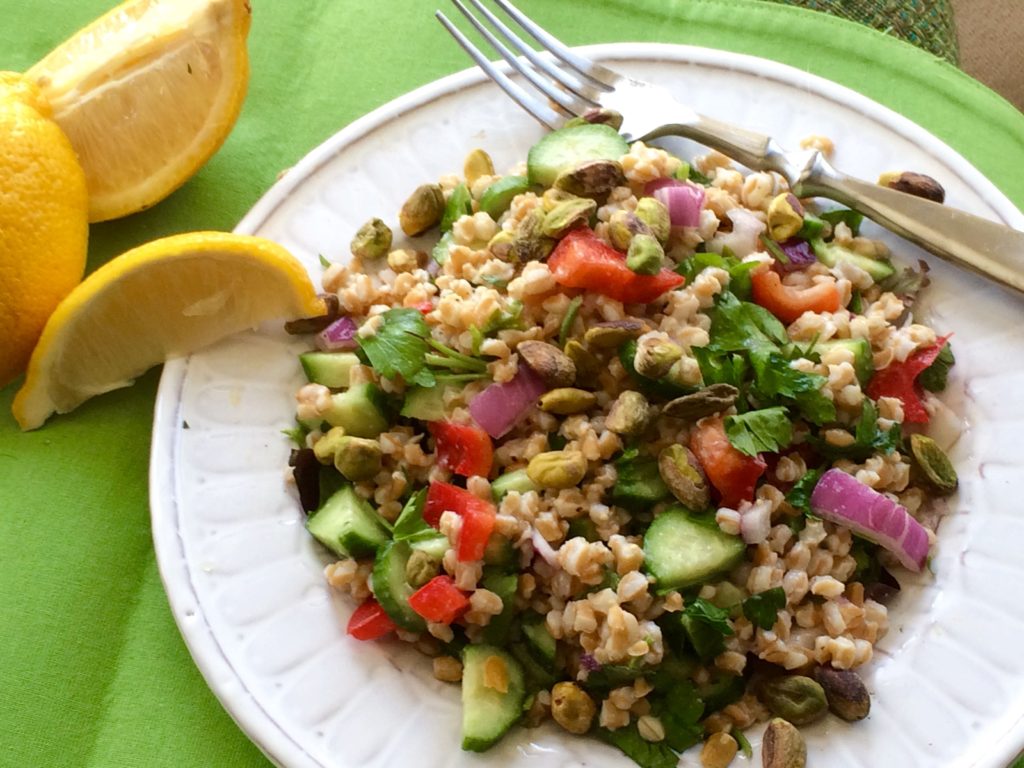 You'll want to have salads like this one on hand all summer long, whether for lunch or supper.
And, I'll fully admit, I even had a bowl of this for breakfast one day.
—
Learn more about food personality and health expert Dr. PK Newby here, or her experience as a nutrition scientist, professor, and consultant here. Or click here if you just want to ogle food porn featuring plant-based, globally inspired cooking.