Tahini, Falafel's Best Friend (Recipe)
Thursday, June 30, 2016
Made from creamy sesame paste, Greek yogurt, and lemon juice, tahini sauce is the velvety accompaniment to falafel that completes the dish—and it couldn't be easier to make at home.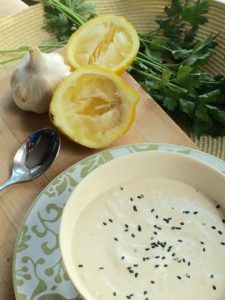 I am dedicating this post to all of the places that serve the wrong sauce with their wares, from the time I was asked, "What kind of dressing do you want on your Greek salad?" (uh, what? is that a trick question?), to when I was served a falafel sandwich that did not come with tahini (and the falafel itself, not surprisingly, was mediocre).
That's ridiculous, and wrong. Just as a hamburger comes with ketchup, falafel comes with tahini sauce, that delightful dressing made from sesame paste that's popular in both Middle Eastern and Mediterranean cuisines.
Here's my quicker-than-ever recipe (whose resulting white sauce should not have been photographed in an ivory bowl).
Tahini (Sesame-Yogurt Sauce)
Ingredients
1/2 cup tahini (sesame paste)
1/4 cup nonfat yogurt (dairy or not)
Juice from 1 large lemon (approximately 1/4 cup)
3-4 cloves garlic, minced
1/2 cup warm water (scant)
Pinch or two of salt
Cayenne pepper, to taste (optional)
Black sesame seeeds, for garnish
Instructions
Whisk together the first four ingredients. Add water a little at a time until desired viscosity; the full half cup works for me, but make it as thin or thick as you like. Add pinch or two of salt to bring out the flavors. Include a shake of cayenne for complexity, not heat. (Unless you want spicy tahini, of course.)
Tahini really is an essential addition to falafel dishes to provide texture, contrast, and taste, whether served on its own; as part of a traditional Greek sandwich; or starring in an American-style burger. It just completes it. Yet it also makes a tasty dip for veggies, and that kind of thing.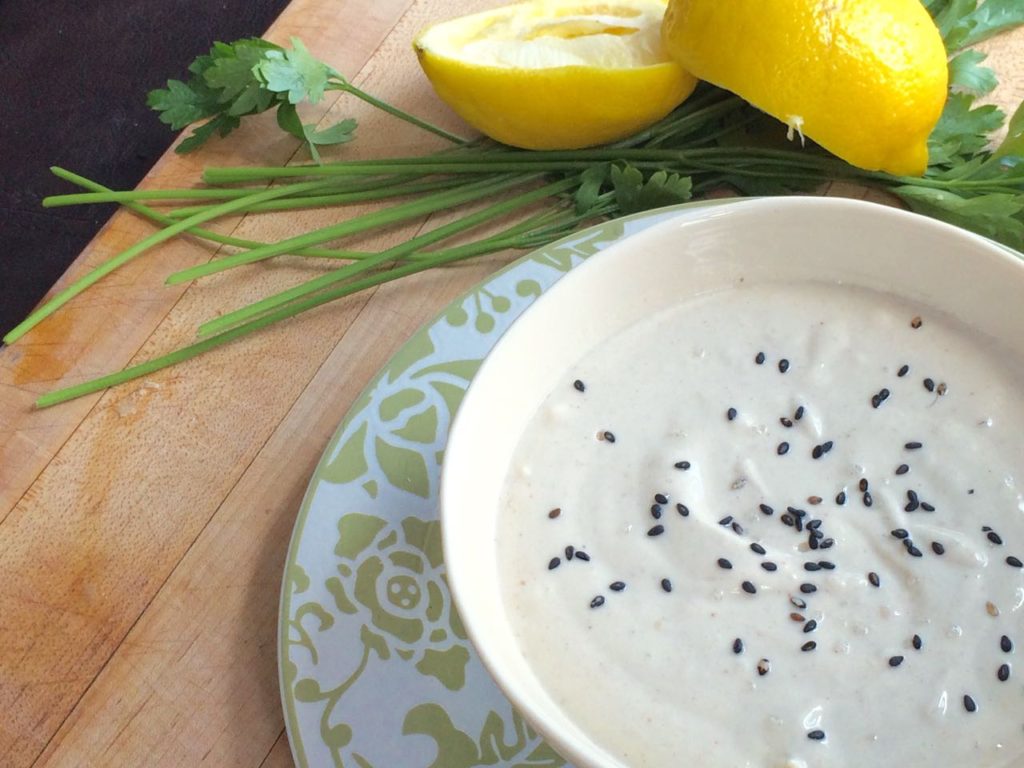 Also, as it turns out, you may want to keep some extra on hand in case you order take out falafel and it doesn't come with any.
—
Learn more about food personality and health expert Dr. PK Newby here, or her experience as a nutrition scientist, professor, and consultant here. Or click here if you just want to ogle food porn featuring plant-based, globally inspired cooking.