Slow Roasted Salmon with Chopped Greek Salad and Tzatziki
Sunday, March 3, 2013
Today's dish is another in my Greek food series, which began with tzatziki, that classic Greek yogurt sauce that can be used as a condiment in many different dishes. A shish kebab sandwich is a natural pairing, but this sauce is also a lovely accompaniment to fish. Add a salad garnish featuring chopped vegetables rather than a lettuce base with a classic Greek vinaigrette and you've got a fabulous Mediterranean-infused supper that is loaded in nutrients like protein and omega-3 fatty acids (from the salmon), monounsaturated fats from the olive oil (in the dressing), calcium (from the yogurt), and all kinds of other vitamins, minerals, and phytonutrients from your veggies and herbs. Another nutritional powerhouse, for sure.
The steps are pretty easy.
Roasted Salmon with Tzatziki
Prepare the tzatziki, as described here.
Roast the salmon, following the instructions here.
Whisk up the vinaigrette, explained here.
Chop the veggies of your choice for the salmon garnish and toss with the dressing. (I used traditional cucumber, tomato, and scallions tossed with large sprigs of dill.)
Season with a bit of salt and freshly ground pepper, drizzle with extra-virgin olive oil, and slow roast for about 20 minutes.
Of course, those four short sentences make it look a bit quicker than it takes, but the dish really this isn't very difficult to make at all. The salmon will take about 25 minutes, during which time you can prep the veggies and vinaigrette. The longest time you'll need to wait is while the tzatziki sits, but if you make it right before you roast the salmon, it'll be done once the salmon is finished cooking. The whole thing can be on the table in 30 minutes. Really.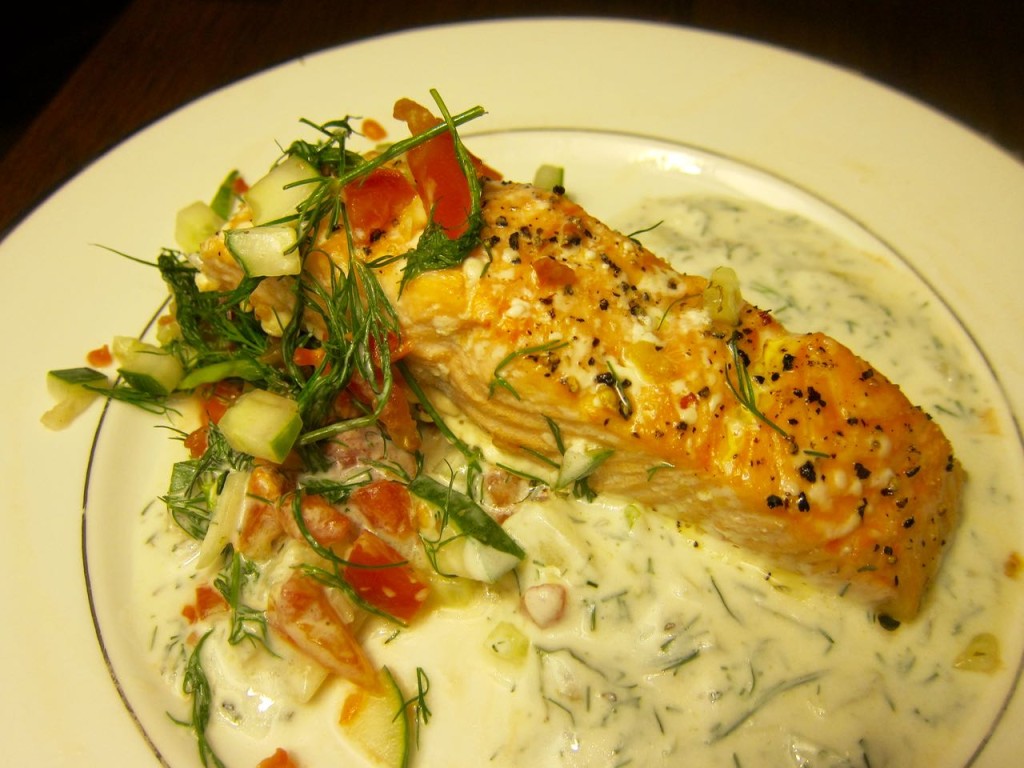 Not into seafood? A gentle reminder that it's time to give it a shot. Prepared the right way, you might learn to love it, just like my husband did and other people I know, too. Otherwise, you could substitute in chicken or tofu. The keys are the sauces and dressings that bring everything together and make it Greek.
Easy enough for a weeknight meal, special enough for a Sunday supper (if you're into that kind of thing), and elegant enough to impress your Mediterranean food-loving guests at your next dinner party, I hope you enjoy this meal as much as I do.