Savory Stuffed Portobello Mushroom: It's What's for Dinner
Friday, December 7, 2012
Who Doesn't Love Stuffed Mushrooms?
Have you ever found yourself enjoying a delicious stuffed mushroom hors d'oeuvre at a party and wishing you didn't need to hold back politely to make sure there were enough for all the guests? These tasty morsels of roasted mushrooms and herbs mixed together with fillings of the cook's whimsy are indeed everyone's favorite, and I'm certain I'm not the only one surreptitiously grabbing more than my share. I mean, why can't we just have stuffed mushrooms for supper, and avoid all that awkwardness?
Enter today's recipe, an elegant dinner that can be made vegan, vegetarian, or pescetarian to suit your tastebuds and dietary preferences. Paired with a dinner salad and served over garlicky greens (kale pictured), you've got a filling, flavorful dish that will definitely satisfy your stuffed mushroom craving.
And with all of the fabulous vegetables, whole grains, nuts, and herbs—the foundation of a plant-based diet—my recipe is as nutritious as it is mouthwatering.
Leftover Stuffing, Meet Portobello Mushroom
The idea for this dish stemmed from having leftover wild mushroom, spinach, and herb dressing following Thanksgiving. Given mushrooms are also stuffed, I thought: why not just gussy up the leftovers and encase lovingly into a large, meaty portobello mushroom for a dinner that's sure to please my stuffed mushroom-loving husband and me?
Challenge accepted.
Chop the remaining dressing from its larger chunks into a more suitable size. Next, sauté up a few additional ingredients to freshen the leftovers, including yellow onion, red pepper, green pepper, and the stalks from the portobellos. While that's happening (6-8 minutes over medium-high heat), lightly drizzle the mushroom caps with olive oil, season with salt and freshly ground pepper, and briefly roast in a 350 degree oven for 7-10 minutes. (I hate when stuffed mushrooms are raw, so I always pre-cook them a bit.) After deglazing the pan with some white wine, add several cloves of crushed garlic and additional fresh herbs to brighten the mixture.
Now, you could go ahead and stop here, stuff them into the caps, and be done with it for an outstanding vegan dish. (A bit of extra olive oil or stock can be used to bind the mixture, if needed.)
Or, for a lacto-vegetarian option, you could add some freshly grated parmigiano or pecorino cheese, a traditional ingredient in stuffed mushrooms.
Else, if you really want to take this fungus over the top, you could add some smoked oysters or mussels, as I did, which will elevate your standard stuffed mushroom into the realm of the sublime.
Whatever variant you choose, sauté up some greens while the 'shrooms are cooking (15 minutes or so) then plate artfully, placing the mushroom center stage.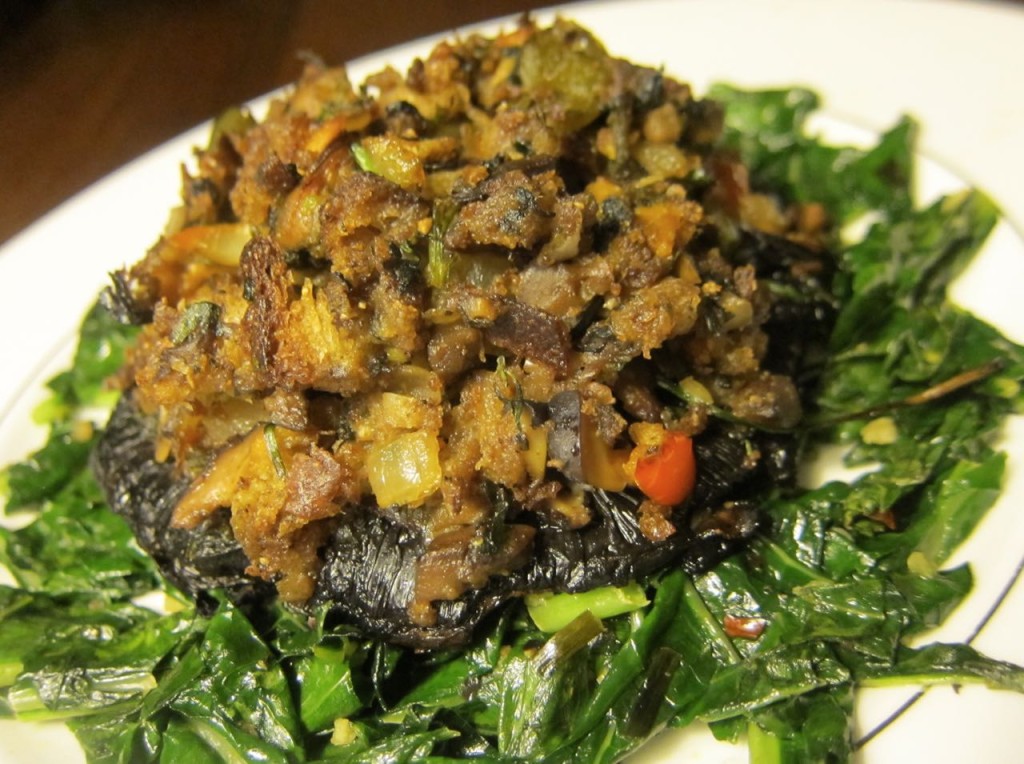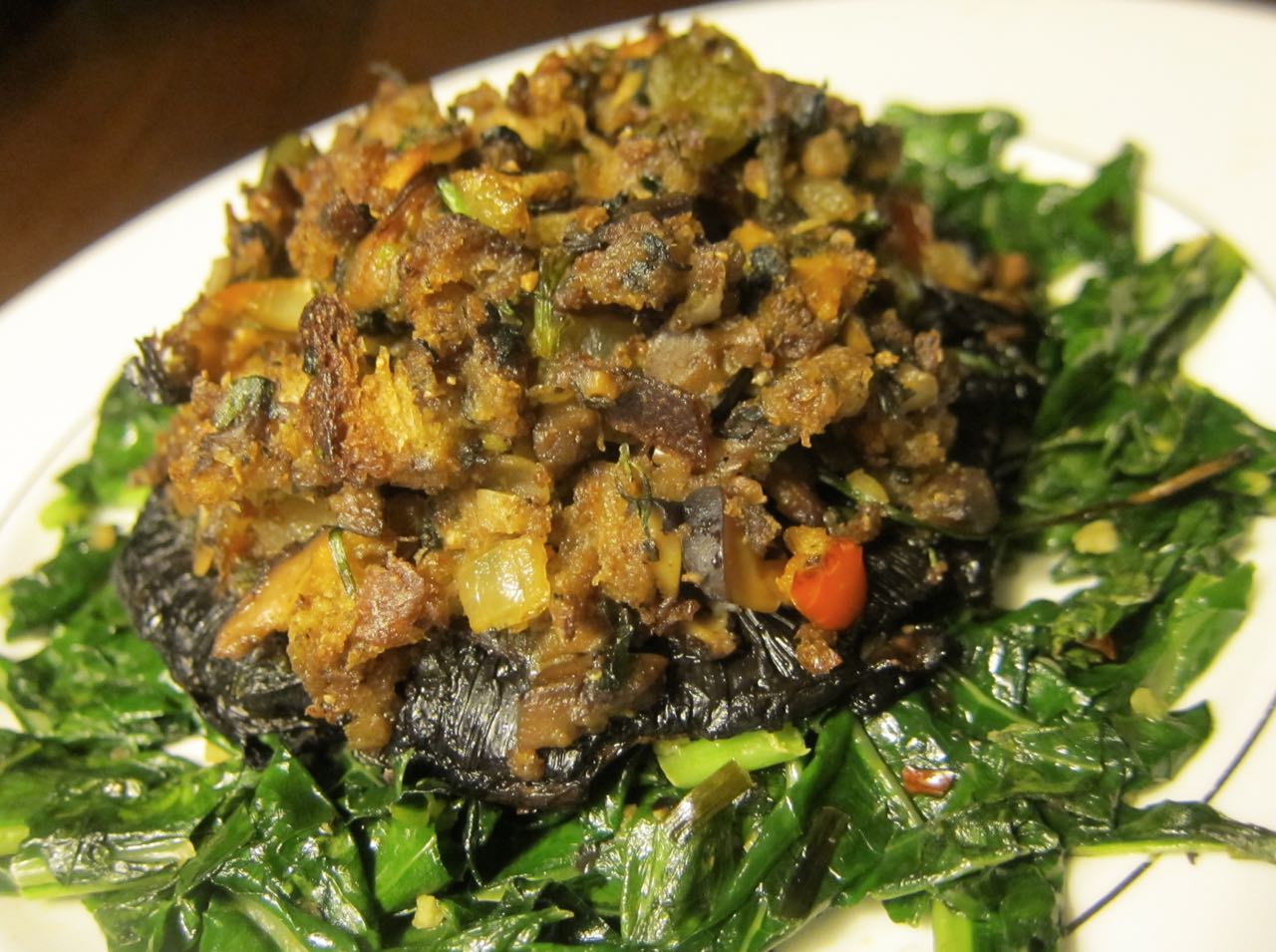 Finally, a dish that gives stuffed mushrooms their rightful place: as the main course.