Getting Retro with Waldorf Salad: A Modern Take on the Classic
Saturday, November 8, 2014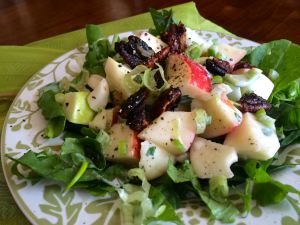 Some of my readers may not be familiar with this dish, which is decidedly old-school. In fact, Waldorf salad was created at the turn of the twentieth century. It was particularly popular in the early 1900s, even getting a shout-out in Cole Porter's classic song "You're the Top" from Anything Goes (1934) alongside Shakespeare and Mickey Mouse. Waldorf salad also played a starring role in one of the episodes of the 1979 British sitcom Fawlty Towers.
Perhaps due to its tasty simplicity featuring common ingredients like apples and walnuts, it continues to be passed down the generations. And why not? There's nothing not to like about this classic, and it's a fine way to celebrate all those crisp autumn apples of varying colors and flavors. Just select a few varieties that make you happy—leave that pretty skin loaded with fiber and phytonutrients on, please—and add a few more ingredients for a dish that can be made in less than ten minutes. My recipe modernizes the salad with additional vegetables and herbs to give it a nutrition and flavor boost, and there's plenty of room for you to play, too, to create your own perfect Waldorf salad fit for twenty-first century families.
Waldorf Salad
Ingredients
2 apples
2 Hakurei turnips (sweet salad turnips)
1 teaspoon fresh lemon juice (approximately from 1/3 lemon)
1 tablespoon scallions, diced
1 tablespoon celery, diced
1 tablespoon parsley, rough chop
1 tablespoon mayonnaise
1 tablespoon nonfat yogurt
1 tablespoon raisins (I prefer golden)
1 1/2 tablespoons pecans, toasted, rough chop
1/2 teaspoon white balsamic vinegar
1/2 teaspoon agave nectar (or honey) (optional)
Salt and freshly ground pepper, to taste
Instructions and Notes
Chop the unpeeled apples and turnips into bite-sized chunks and toss with freshly squeezed lemon juice. (I generally choose one sweet and one tart apple; use whatever you want.) Stir in scallions, celery, parsley, mayonnaise, yogurt, raisins, and nuts. Add a shake of vinegar and small squirt of agave, season with freshly ground pepper and a few pinches of salt, and mix. Taste and adjust: final amounts of vinegar, lemon juice, and agave (if using) will be dictated by how sweet or tart the apples you selected were as well as your own preferences. Personally, I enjoy a salad with tang so I often squeeze in a bit more lemon juice. Garnish with lemon zest, a few nuts, or a scatter of parsley and scallions, as desired.
Sure, you can just toss some apples together with yogurt and nuts perhaps like you would with any fruit for a simple snack or dessert. But putting a few additional ingredients together creates something … special. I include scrumptious turnips because they're always at my farmers market this time of year. This small and sweet variety is perfect in any kind of autumn salad and has the same texture as a very crisp apple with none of the bitterness of its larger counterpart. Perfect complement.
There are so many other options to keep things interesting and suit your taste. Swap red or yellow onion for scallions; switch pistachios or walnuts for pecans; add kale, broccoli, or cauliflower for color and texture; or toss in and handful of grapes, as those keeping with the traditional recipe are wont to do. And you could ditch the mayo if you prefer and just use yogurt, perhaps with crème fraiche or sour cream for tang. I often include a drizzle of extra-virgin olive oil, too.
A small bowl of Waldorf salad makes a super breakfast, snack, or dessert, but with all of these vegetables I find it also makes a really nice light lunch when served atop a bed of greens. Peppery arugula is perfect (as pictured) but anything works, really, from sweet spinach to pretty red leaf lettuce; choose whatever you have on hand.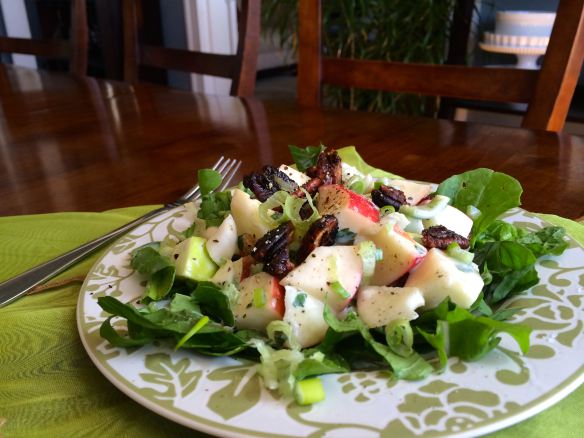 Here's to the classics!
There's a reason they're still around, and getting creative makes them a fun and worthwhile addition to your meal-time repertoire, even now.