Summer on a Plate: Caprese, Meet Peaches
Friday, August 8, 2014
Luscious peaches dripping with juice come together with sweet summer tomatoes, local mozzarella, and basil for a sumptuous summer salad. Make it now.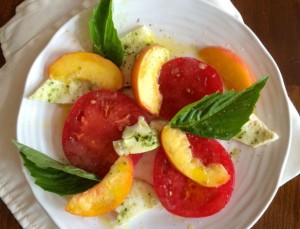 It doesn't get much prettier or simpler than this. In a feast for the eyes as well as the palate, this ravishing play on caprese salad screams summer with the addition of juicy peaches. The traditional ingredients of tomato, mozzarella, and basil still shine, but including sweet stone fruit brings a burst of color and flavor that just may make you swoon.
Simply slice your favorite tomato—heirlooms are glorious, if you can find them—and serve with peach wedges and shards of fresh mozzarella. I had a bit of extra basil oil, which is why the cheese has flecks of green, but you needn't bother. (Though the addition of pesto is always an option on this kind of salad, as shown here.) Tuck in a few leaves of basil and season with flaky salt and freshly ground pepper; a drizzle of balsamic is always delicious, too, pictured below.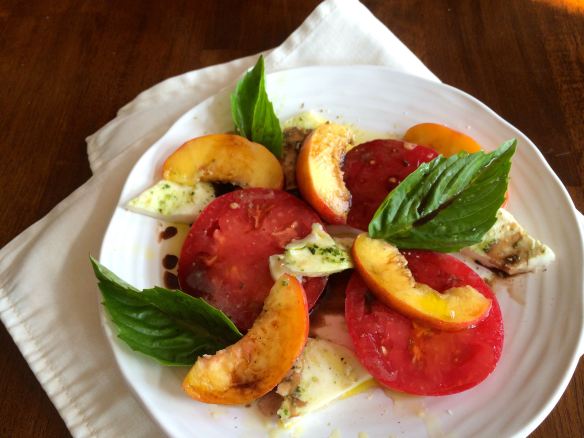 Okay, fine, yes, I just wanted to include another photo of this salad because it's so luscious.
And I really have very little else to say, other than to encourage you to take advantage of local and seasonal produce while you can. The tomatoes, peaches, and basil came from my local farmers' market, which makes all the difference when it comes to taste. You can have fun with the salad by mixing up the variety and color of the tomatoes, the type of cheese, and even the herbs and stone fruit you use: make it delicious, your way.
And do make it soon.
—
Learn more about nutrition scientist and food personality Dr. P.K. Newby, and check out her newest book. You can also follow her on FB, where she is much more active than on this blog. Or, click here if you just want to ogle food porn featuring plant-based, globally-inspired cuisine.