Colorful Chopped Salad Starring Chick Peas
Friday, March 8, 2013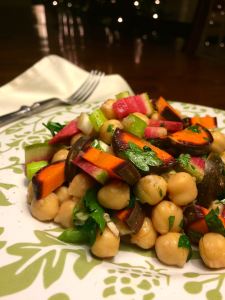 Everyone knows how much I love my salads, which comprise my dinner in full at least twice a week. Most frequently, my salads include a broad array of vegetables and such piled on top of a big bed of lettuces in all kinds of combinations like those discussed here. I love salad greens, and it's low-calorie way to add tons of fiber and valuable nutrients to a salad. Even so, the chopped salad is a really nice change and makes a lovely side dish to many a meal.
It's also a fantastic way to use up whatever vegetables and beans you have left in the fridge as the week nears its end and you haven't yet replenished.
Sort of like tonight.
Chopped Salad Starring Chick Peas
Into the bowl goes garbanzos (chick peas), purple carrots, watermelon radishes, red and green peppers, and onions. Add a couple of cloves of crushed garlic, season with salt and freshly ground black pepper, and drizzle with extra virgin olive oil and white wine or white balsamic vinegar. (Use whatever oils and vinegars you like—I don't like using red simply because it turns the beans red, that's all.) I often add a handful of roughly chopped herbs to a chopped salad as well if I have any, which I didn't in this particular case other than a solitary sprig for this photo. Parsley, basil, cilantro, mint, dill—whatever you like that seems  a good match to your other veggies. Toss and let sit for a few minutes to let the flavors come together, if you can. Reseason as needed.
I often have this salad alongside an omelet or I'll whip it up for a light lunch for my husband and myself on the weekends. And, of course, this salad is equally lovely atop a small bed of greens if you just can't bear to be without them. (I hear that.)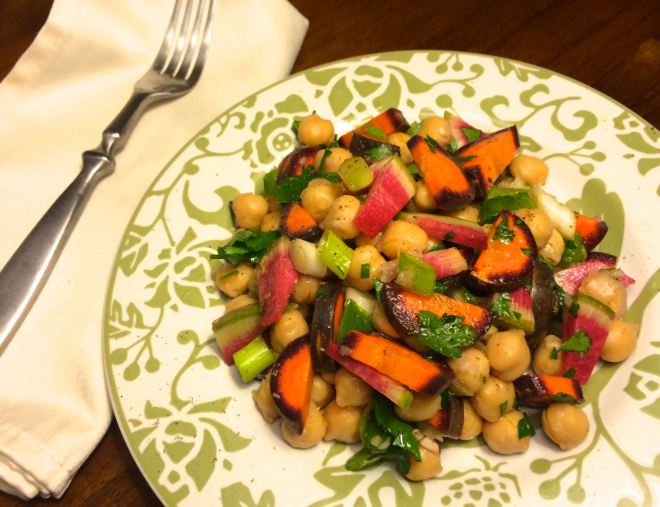 So don't let this simple-looking salad fool you. It's incredibly flavorful when you start with your favorite stuff.
However you make it, and whenever you eat it, enjoy!