Summer Means Strawberry Rhubarb Pie (Recipe)
Wednesday, July 25, 2018
Few desserts are more summery than this scrumptious and vibrant pie, which celebrates the best of the season with local strawberries and rhubarb.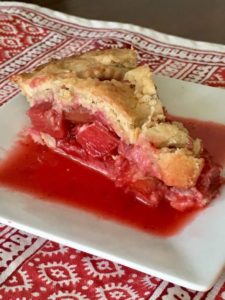 You don't need me to tell you that pie is a special-occasion-only thing when it comes to nutrition, just like any other high-calorie, high-sugar goodie. So it's filed firmly under the "hedonism" part of my "Healthy Hedonism" philosophy, obviously. By all means make it, and enjoy every last bite … just, you know, not that often.
And when it is the time, and the conditions are optimal, turn up the oven and get baking. In my world, "optimal," means juicy red strawberries abound at the farmers market, which are a far superior variety compared to their lackluster pink cousins. (Rhubarb is more forgiving: either the thinner pink or larger red stalks work just fine, I find.)
This dessert, like my oozy boozy chocolate bourbon pecan pie and pumpkin bread pudding with salted caramel sauce, is truly divine. And it's exactly why I don't bake all that often: too tempting to eat dessert for breakfast, lunch, and dinner 'til it's alllllllllll gone.
So when I do bake, man, it's crazy delicious. Trust me on this: you gotta make this pie.
Strawberry Rhubarb Pie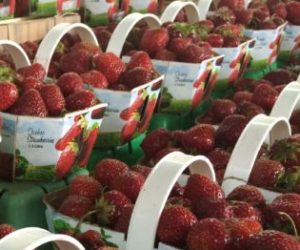 Crust
2 1/2 cups unbleached white flour (or combination white and white whole wheat)
6 teaspooons white sugar
1 teaspoon salt
2 sticks (16 tablespoons) cold unsalted butter, diced
1/4 cup shortnening (non-hydrogenated)
2 tablespoons to 1/4 cup water, until dough comes together in chunks
Filling
4 cups rhubarb, about 1/2 inch pieces
4 cups strawberries, hulled and halved (or quartered if large)
1/2 cup white sugar
1/2 cup brown sugar
1/4 cup cornstarch
1/4 teaspoon salt
1 teaspoon orange zest
2 tablespoons butter, to dot
Instructions
1. Preheat the oven to 425°F. Grab your food processor and pulse the flour with the sugar and salt a few times to combine. Add the diced putter and pulse a few more times until the mixture resembles coarse sand. Add ice water and pulse a couple of more times until the mixture begins to hold together in large clumps, then dump onto a floured surface and pat the dough together into 2 discs (about 4 inches in diameter). Wrap in plastic and toss into the fridge for 30 minutes, or up to a few days if you like.
2. Roll out dough into a 12-inch diameter, approximately, then transfer to a a 9- or 10-inch glass pie plate. Trim the overhang to 1/2 inch, aif needed. Refrigerate until firm while preparing the filling.
3. Whisk sugars, cornstarch, and salt in a large bowl then added chopped fruit, zest, and toss gently, until combined. Set aside.
4. Roll out the top crust, then pour the filling into the pie shell; you may have leftover filling depending on the depth of your plate. Dot the filling with little bits of butter. Top the pie with a full crust, lattice, or whatever makes you happy. If using a full crust make sure to add vents. Fold the edges under together and crimp to your liking.
5. Place pie carefully in the lower third of the oven, with a piece of foil (or baking sheet) on the rack below it. (It will undoubtedly drip over.) Bake 30 minutes at 425 degrees, then lower the heat to 350 degree and cook an additional 25-30 minutes, until the juices are thick and bubbling through the top. You will likely need to tent the crust with foil halfway through the baking time if the edges begin over-browning.
6. Transfer the baked pie to a rack and cool completely, which allows the filling to set properly.
I wasn't able to get the right lighting to get a photo of the whole pie before we dug in, though I did get some gorgeous individual slices. (Note that the juices were from the pie plate that I spooned onto the bottom of the plate just because it was pretty.)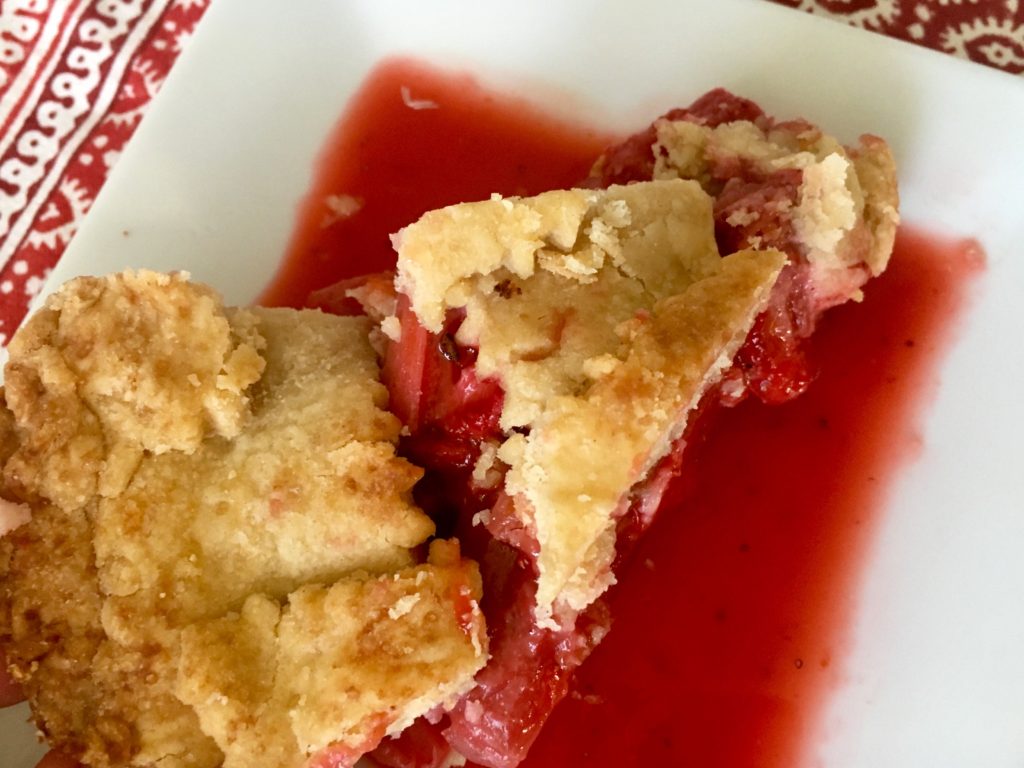 This pie is so delectable on its own it really doesn't need anything else—and can you see how flaky and tender that pastry is?!?! No? How about now? (Close your eyes if you don't enjoy food porn.)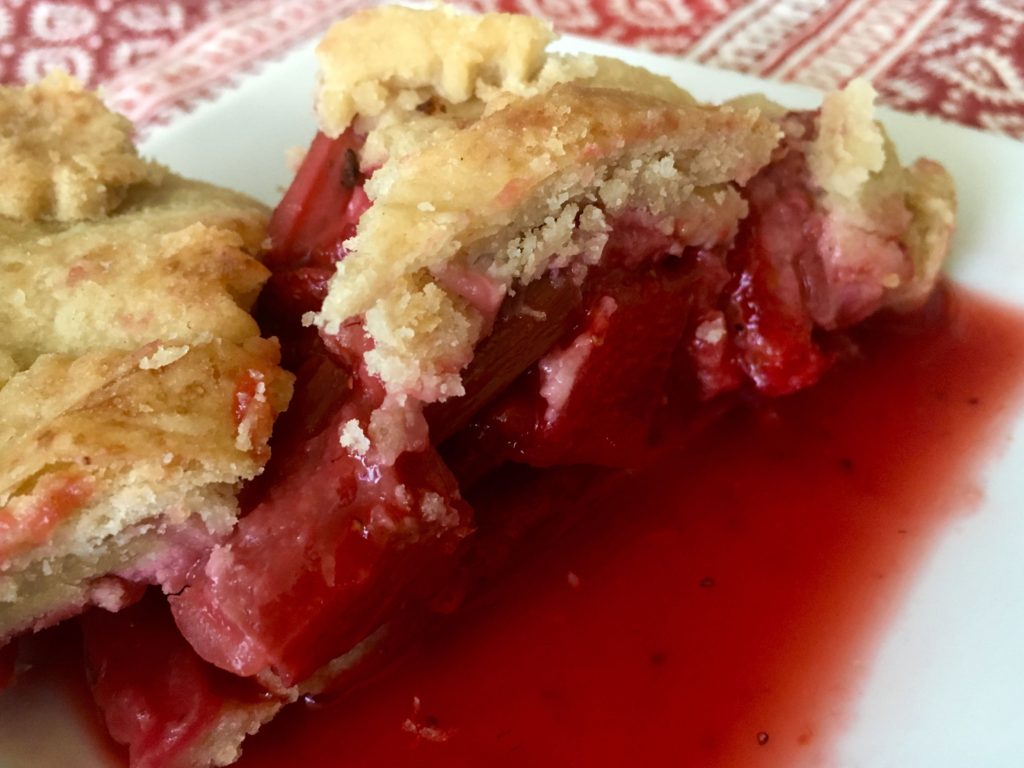 Yeah, baby. That's what I'm talking about.
—
Learn more about food personality and health expert Dr. P.K. Newby, or her experience as a nutrition scientist, professor, and consultant here. You can also follow her on FB, where she is much more active than on this blog. Or, click here if you just want to ogle food porn featuring plant-based, globally-inspired cuisine.