Cucumber Mint Water: No Sugar, No Waste
Wednesday, October 10, 2012
Add lovely flavor and color simply by adding sliced cucumber and a sprig of mint to your water. No sugar, no bottles, no waste, no calories. Perfect.
Beverage Background: Soda and Beyond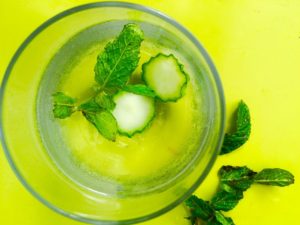 I haven't spent too much time talking about beverage nutrition on my blog. One of these days I'll get around to writing a post on coconut water and hydration in general. As for soda, we're bombarded with messages from reputable sources, especially in light of the recent legislation in NYC. (More here on that.)  If you're living under a rock, today's bracing new video on why it's not a great choice for your health is shown in The Real Bears. (As in, those famous Coca-Cola bears, a few decades hence.) I don't drink soda, unless used as the very rare mixer, as described in a funny story here; this post also has a superb video from the NYC Health Department showing just how much sugar there is in soda pop, which is a LOT.
In fact, beverages make up a major portion of the calories Americans consume daily, and it's one of the leading sources in children. Thus, being aware of your liquid energy is quite important when it comes to managing your weight, health, and risk of disease. Being cognizant of the carbon footprint of the container is important, too, in making more sustainable choices. (I really wish the bears video had pointed that out; it's not a small matter.) The beverage vessel issue also extends to bottled water, by the way, which is wasteful and in most cases completely unnecessary. If you are lucky enough to have potable water, thank your public health officials and use the tap instead.
Water doesn't excite you, you say? No problem. Here's what I do to add a little flavor boost.
Take Tap Water Up a Notch
One of my all-time favorite beverages in herbal iced-tea, and a jug of it frequently resides in the fridge. Inspired by the still-available cucumbers and mint at my local farmers' market, I decided to mix things up a bit by making an infused water. Nothing to it, other than slicing up a cucumber, tossing in some mint leaves, and letting it sit a bit before consuming.
A very refreshing beverage indeed, which I served at a recent dinner party and has currently supplanted iced tea as my go-to beverage.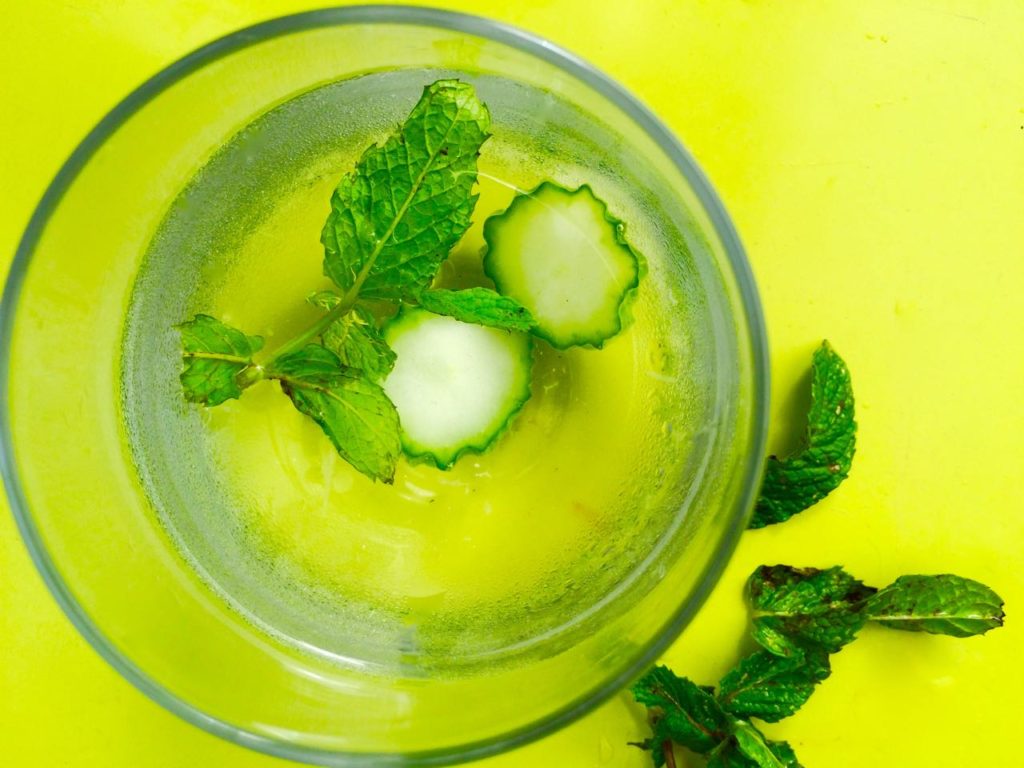 Incidentally, the idea for this drink came from a reception I attended a few months back for Jamie Oliver at Harvard School of Public Health, where he received the "Healthy Cup Award." In his speech, he also famously gave a spank to soda. The version served was different from mine, as you can see from its green hue. I don't see the recipe anywhere online, but my guess is they used a strained cucumber purée, as I did in my gimlet and mocktail. Though I found the color less than appetizing (chernobyl green?), this refreshing libation had a lovely, cucumber-y flavor. My version was a more balanced mix of cucumber and mint and I rather enjoyed how pretty it looked in the glass.
However you make it, one thing is for certain: it's a much better choice than sugar-sweetened beverages.